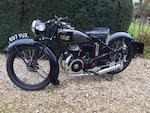 1932 Velocette 249cc GTP
Registration no. 697 YUX
Frame no. B3110
Engine no. GA14334
The ultimate expression of Velocette's two-stroke line - the GTP - appeared in 1930. Unlike many of its contemporaries, the GTP was not a 'built-to-a-price' utility model but a sporting lightweight of advanced design incorporating coil ignition and pumped lubrication controlled by the throttle. Early models had the three-speed hand-change gearbox, later ones the four-speed foot-change type, and all employed the characteristic slim-line Velocette clutch.
Previously registered 'WV 1255', this GTP was completely restored in 2010 when works undertaken included shot-blasting and powder-coating the frame and overhauling the engine, gearbox and front forks. Parts renewed included the clutch, control cables, electrics, wheel rims, tyres and tubes. Most of the work was done professionally. Described as in generally excellent condition, the machine is offered with dating letter, (copy) old V5 and current V5C registration document. A foot-operated gearchange (a feature standardised in 1934) is the only notified deviation from factory specification.
Saleroom notices
The Frame number is GB3110.