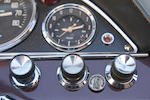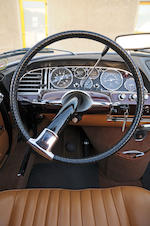 1966 Citroën DS21 Le Caddy cabriolet
Carrosserie Henri Chapron
Châssis n° 4350010
Moteur n° 0315006113
Carrosserie n° 7553

Comme il l'avait fait vingt et un ans auparavant avec la révolutionnaire 'Traction avant', Citroën étonnait à nouveau le monde en 1955 en lançant sa DS à la ligne futuriste. L'aspect spectaculaire de la nouvelle venue avait été dicté par les besoins de l'efficacité aérodynamique, alors que sous la carrosserie profilée aux allures de requin, on trouvait une suspension indépendante hydropneumatique aux quatre roues à assiette constante, des freins, un embrayage et une direction assistés. Pas une voiture européenne n'allait égaler le confort de la DS pendant plusieurs années, la supériorité de la suspension hydropneumatique Citroën, en avance sur son temps, étant avérée par sa présence sur les actuels modèles de haut de gamme. Le moteur original de la DS, un 1911 cm3 à soupapes en tête à course longue fut remplacé en 1966 par un moteur à course courte de 1985 cm3 également proposé dans des versions 2175 cm3 et 2347 cm3, les autres modifications apportées à la DS étant des phares orientables, l'injection et une boîte cinq vitesses.

Les autres modèles de DS proposés étaient l'ID (une version simplifiée meilleure marché), l'immense break Safari et la décapotable deux places. Cette dernière, l'une des plus élégantes voitures des années 1960, était l'œuvre du célèbre carrossier parisien Henri Chapron qui avait baptisé son premier modèle de cabriolet DS La Croisette. Né à Nouan-le-Fuzelier en Sologne, Henri Chapron avait fondé son atelier de carrosserie en 1919 à Levallois-Perret, près de Paris. Contrairement à de nombreux autres carrossiers français en vogue, Chapron n'avait hérité d'aucun bagage esthétique de l'hippomobile avant de passer à l'automobile, en raison de quoi son travail avait une fraîcheur et un sens inné des proportions qui convenaient parfaitement aux châssis de qualité.

Les interprétations d'Henri Chapron sur Citroën DS et ID était différentes des versions de série. Dès 1965, Chapron ajoutait des ailerons aux ailes arrière et lançait sa version haut de gamme de la DS au salon de Paris, à la Porte de Versailles, en octobre 1964 sous le nom de Majesty. La version décapotable de Chapron ne fut d'abord pas approuvée par Citroën, l'obligeant à acheter des voitures complètes plutôt que des châssis nus, mais le constructeur finit par plier et se mit à construire son propre cabriolet 'usine' sur le châssis allongé du break ID.

Chapron continua à construire ses propres versions cabriolets Le Caddy et Palm Beach, ainsi que plusieurs variantes limousines et coupés. La seconde version de DS décapotable, la Le Caddy, fut dévoilée en 1959 et représentait un net progrès par rapport à la La Croisette. Alors que cette dernière utilisait les ailes arrière de la berline, nécessitant un jonc chromé pour cacher le joint entre l'aile et le panneau ajouté derrière la portière, la Le Caddy utilisait une aile d'une seule pièce, bien plus élégante. Les portes avant de la berline furent utilisées jusqu'en 1960 lorsque des portières plus longues furent adoptées, améliorant encore les proportions. Seulement 34 exemplaires du cabriolet Le Caddy furent construits entre 1959 et 1968. Inutile de dire qu'ils sont très recherchés.

Cet exemplaire, un des trois construits en 1966, parmi les rares Citroën construites par Chapron arbore une livrée marron avec un intérieur en cuir fauve et est dotée de la transmission semi-automatique (sans embrayage). Découvertes par les propriétaires père et fils en Hollande en 2003, la voiture a été restaurée professionnellement en Italie par la suite, le travail étant achevé en 2006. Témoignage de la grande qualité de la restauration, elle figurait en couverture du magazine italien Ruote Classiche d'octobre 2007. Présentée en excellent état général, cette magnifique Citroën construite par Chapron est vendue avec ses papiers d'immatriculation italienne.

1966 Citroën DS21 Le Caddy Convertible
Coachwork by Henri Chapron
Chassis no. 4350010
Engine no. 0315006113
Body no. 7553

Just as it had done 21 years previously with the revolutionary 'Traction Avant', Citroën stunned the world again in 1955 with the launch of the strikingly styled 'DS'. The newcomer's startling appearance had been determined by the requirements of aerodynamic efficiency, while beneath the shark-like, low-drag bodyshell there was all-independent, self-levelling, hydro-pneumatic suspension plus power-operated brakes, clutch and steering. No European car would match the DS's ride quality for several years, and the fundamental soundness of Citroën's ahead-of-its-time hydro-pneumatic suspension is demonstrated by its survival in present-day top-of-the-range models. In 1966 the DS's original 1,911cc, overhead-valve, long-stroke engine was replaced by a short-stroke 1,985cc unit, also available in 2,175cc and 2,347cc versions, while other developments included swivelling headlights, fuel injection and a five-speed gearbox.

Other models offered alongside the original DS were the ID (a simplified, cheaper version), the cavernous Safari estate and the two-door Décapotable (convertible). One of the most stylish cars of the 1960s, the latter was the creation of that most celebrated Parisian coachbuilder, Henri Chapron, who called his first such model 'La Croisette'. A native of Nouan-le-Fuzelier in the Sologne region of France, Henri Chapron founded his coachbuilding company in 1919 at Levallois-Perret an outskirt of Paris. Unlike so many fashionable French coachbuilders, Chapron carried none of the mental baggage that came from having graduated to cars from building horse-drawn carriages; consequently, his work had a freshness and innate sense of proportion that was well suited to chassis of quality.

Chapron's interpretations of the Citroën DS and ID were quite different from the regular production versions. Chapron added fins to the rear wings as early as 1965 and launched his own version of an upmarket DS at the Porte de Versailles Salon de l'Auto in October 1964 using the name 'Majesty'. At first, Chapron's décapotable conversion was not approved by Citroën, forcing him to buy complete cars rather than rolling chassis, but eventually the factory relented and went on to produce its own usine version on the longer chassis of the ID Break (estate) model.

Chapron continued to build his own Le Caddy and Palm Beach cabriolets together with various limousines and coupés. Chapron's second take on a soft-top DS, Le Caddy first appeared in 1959 and represented a considerable improvement over La Croisette. Whereas the latter had used saloon-type rear wings, necessitating a covering strip for the join between the wing and the redundant rear 'door' panel, Le Caddy used a much neater one-piece wing. The saloon's front doors were used until 1960 when longer ones were adopted, resulting in a further improvement in the design's proportions. Only 34 examples of the Le Caddy convertible were built between 1959 and 1968. Needless to say, they are all highly desirable.
One of only three of its kind built in 1966, this example of one of Chapron's rare coachbuilt Citroëns is finished in maroon with tan leather and has the semi-automatic (clutch-less) transmission. Discovered by the father-and-son owners in Holland in 2003, the car was subsequently professionally restored in Italy, the work being completed in 2006. Testament to the high quality of the restoration, it featured as the cover-story car for the October 2007 edition of the Italian motoring magazine 'Ruote Classiche'. Described as in generally excellent condition, this beautiful Chapron-built Citroën is offered with Italian registration papers.