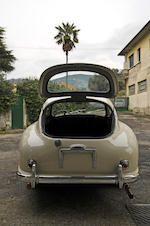 Eligible aux Mille Miglia
1955 Aston Martin DB2/4 MkI 3 litre coupé
Carrosserie Mulliners de Birmingham
Châssis n° LML/812
Moteur n° VB6J/292

Lors de l'essai de la DB 2/4 en 1954, Autocar affirmait que les Aston Martin 'était reconnues depuis de nombreuses années comme des voitures de sport à hautes performances de grande qualité', tandis que concernant le dernier modèle de l'usine de Newport Pagnell, il concédait que c'était 'une voiture chère, conçue pour satisfaire le connaisseur de sportives qui ne s'encombre pas de considérations pécuniaires'.

Dévoilée en octobre 1953, la DB 2/4 élargissait l'attrait déjà considérable de la DB 2 en y installant tout simplement deux sièges d'appoint à l'arrière, grâce à un arrière complètement redessiné. En plus de ces deux places supplémentaires, on pouvait emporter plus de bagages dans le coffre, accessible par un hayon. Le toit surélevé, le pare-brise d'une seule pièce, les pare-chocs plus épais et d'autres détails différenciaient encore la nouvelle 2+2 de sa devancière. Par ailleurs, la DB 2/4 restait mécaniquement presque identique à la DB 2, le moteur Vantage (125 ch) étant désormais monté en série. Un total de 565 DB 2/4 fut produit avant l'arrivée de la DB 2/4 MkII en octobre 1955, date à laquelle le 3 litres de 140 ch VB6J était installé en série.

La fiche constructeur fournie avec la voiture atteste que cette conduite à gauche châssis n°812 fut d'abord la propriété d'un certain J. G. de Thouars, résidant à l'ambassade de Hollande à Madrid, en Espagne. Livrée le 24 mars 1955, la voiture était alors bleu Haze avec un cuir Connolly assorti et était dotée de phares antibrouillard Lucas, de ceintures de sécurité, de sangles pour les bagages et d'un compteur en km. En 1990 et 1991, la voiture a participé à la Mille Miglia Storica, le registre Aston Martin la créditant de la 36e place la seconde année avec Casella/Vigevana. Restaurée en 2002, son moteur refait par un spécialiste italien en 2012, la voiture est blanche avec intérieur en cuir noir et est décrite par le vendeur comme en excellent état général. La documentation fournie comprend la copie de la fiche de construction mentionnée plus haut, le Libretto italien, le Certificato di Proprieta, les papiers ASI Oro et la carte d'identité FIVA.

1955 Aston Martin DB2/4 'MkI' 3.0-Litre Sports Saloon
Coachwork by Mulliners of Birmingham
Chassis no. LML/812
Engine no. VB6J/292

Testing the new DB2/4 in 1954, Autocar acknowledged that the Aston Martin had, 'been well known for very many years as a sports car of fine quality and high performance,' while characterising the Newport Pagnell manufacturer's latest offering as, 'an expensive car designed to cater for the connoisseur of sportscars who is not limited by financial considerations.'

Introduced in October 1953, the DB2/4 widened the already considerable appeal of the DB2 by the simple expedient of installing two occasional rear seats, the latter being facilitated by extensive revisions to the car's rear end. As well as the extra accommodation, there was also room for more luggage, the latter being accessed via a hatchback rear door. A raised roofline, one-piece windscreen, larger bumpers and other detail styling changes further differentiated the new '2+2' from its predecessor. Otherwise, the DB2/4 remained mechanically much the same as the DB2, though the Vantage (125bhp) engine became the standard specification. A total of 565 DB2/4s was produced before the arrival of the MkII in October 1955, by which time the 3.0-litre 140bhp 'VB6J' engine had been standardised.

Its accompanying copy build sheet shows that left-hand drive chassis number '812' was first owned by one J G de Thouars, residing at the Netherlands Embassy in Madrid, Spain. Delivered on 25th March 1955, the car was originally finished in Blue Haze with matching Connolly hide interior trim, and was equipped with twin Lucas fog lamps, passenger seat safety belt, luggage straps and a 'kph' speedometer. In 1990 and 1991 the Aston competed in the Mille Miglia Storica, the AMOC Register recording that it finished 36th in the latter year driven by Casella/Vigevana. Restored from 2002 onwards, the engine being completed in 2012 by Italian specialists, the car is finished in white with black leather interior and is described by the vendor as in generally excellent condition. Accompanying documentation consists of the aforementioned copy build sheet, Italian Libretto, Certificato di Proprieta, ASI Oro and FIVA identity card.


Saleroom notices
Please note that this vehicle does not come with a FIVA Identity Card Veuillez noter que cette voiture n'est pas accompagnée de sa carte FIVA