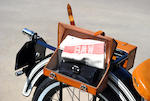 2010 BMW 1,200cc 'R1232'
Frame no. ZN31115
Engine no. 122ED3404621188
The unique motorcycle offered here is the creation of Jean-Luc Dupont and his team at Panda Moto 89 in Villeneuve-sur-Yonne, south east of Paris, a dealership famous for its BMW-based customs. Inspired by the very first BMW motorcycle – the R32 of 1923 – it uses a custom-made frame and is powered by a modern R1200GS engine. 'Harley-Davidson has built its reputation on having their motorcycles as a modern interpretation of the past. I wanted to do the same for BMW and where better to start than BMW's first motorcycle, the R32?' said Jean-Luc. A modern interpretation of the iconic R32 built using current technology, this astonishing machine abounds in special features including a hand gearchange for the six-speed gearbox; a foot-operated clutch; rear-view mirrors mounted on the cylinder heads; copper fuel lines; and rear disc brake disguised as a drum. Everywhere one looks there are delightful surprises. Completed in 2010 after 16 months work, this Herculean project consumed over 600 man-hours and cost around €70,000. Offered with French Carte Grise, the 'R1232' has covered only 4 kilometres since completion and is presented in effectively 'as new' condition. A never-to-be-repeated opportunity for the serious BMW collector.
Footnotes
Saleroom notices
The vendor has supplied us with the following statement: 'I am happy to offer a 10 year warranty on the R1232. This warranty is "parts & labour" with no mileage restriction. I'm doing it to show how much I trust the quality of this unique motorcycle & in order to make the future buyer comfortable and "stress-free".'