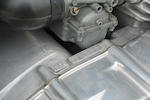 1975 Kawasaki 498cc Mach III H1
Frame no. H1F 44264
Engine no. KAE 114379
From the Z1 to the ZX10R, Kawasaki has long enjoyed a reputation for building uncompromising - often outrageous - high performance motorcycles, first of which was the legendary 'Mach III' (H1). Light weight combined with a peaky 60bhp and indifferent handling made the two-stroke triple an exciting machine to ride but one that nevertheless had the legs of just about everything under 750cc when launched in 1968. Restored three years ago by the previous owner, this Kawasaki H1 was last used during the summer of 2013 and is described by the vendor as in generally very good condition. The machine is offered with Italian Libretto di Circolazione, Certificato di Proprieta and ASI papers.
Footnotes
Saleroom notices
The Frame Number is H1F44364