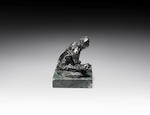 Auguste Rodin (French, 1840-1917)
Homme Accroupi, Etude Type C, P.M dit aussi Figure assise penchée vers la droite levant la jambe gauche
signed, inscribed, numbered and dated 'A. Rodin/no.9/ © by musée Rodin 1966' (lower right verso) and further inscribed '.Georges Rudier./ .Fondeur.Paris.' (lower left verso)
bronze with dark brown and green patina
12.7cm (5in) (height)
Conceived circa 1890-1900 and executed in a numbered edition of 13; this bronze version cast in 1966.
Footnotes