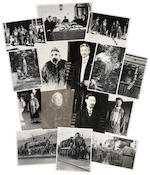 CHINA: THE CAMERA CRAFT COLLECTION.
An extensive collection of material from the archive of John David Zumbrun and Camera Craft, Beijing, [1910-1929], including approximately 2000 gelatin silver print photographs, autochromes, panoramas, lantern and glass slides, postcards, colotypes, and negatives, including a large birds-eye panorama of Beijing; several smaller format panoramas including a set of four taken from a balloon; images of the May Fourth Movement; Yuan Shikai at the Temple of Heaven; portraits of Mei Lanfang; the child emperor Puyi; funerals of Yuan Shikai and Sun Yat Sen; Yencheng University; the Summer Palace; the Forbidden City; Tartar Wall; street and countryside scenes; tradesmen and women; farmers; priests; gardens; interiors; buildings; bridges; temples; etc; comprising:
1. Birds-eye panorama of Beijing, silver gelatin print with hand coloring, 7 1/2 x 71 inches, with attribution in the negative.
2. Group of 7 autochromes, 8 1/2 x 6 3/8 inches to 3 1/8 x 3 7/8 inches.
3. 3 negative albums, containing a total of 276 negatives, each approximately 6 1/4 x 8 1/4 inches.
4. 3 photograph albums, each with mounted silver gelatin print photographs, containing a total of 348 images.
5. 760 loose gelatin silver print photographs, various sizes.
6. 370 lantern slides, 204 of which are hand-colored, 6 3/8 x 8 3/8 inches through 3 1/8 x 3 7/8 inches.
7. 30 hand-colored gelatin silver print photographs, various sizes.
8. 5 hand-colored glass slides, each approximately 6 3/8 x 8 3/8 inches.
9. 13 small-format panorama photographs, silver gelatin prints, 12 of which are 3 7/16 x 10 7/16 and 1 of which is 2 1/4 x 7 inches.
10. 99 postcards after photographs by Zumbrun.
11. 3 volumes in the Peking Art Series, each containing colotypes after photographs by Zumbrun.
12. 27 loose negatives.
13. 2 cameras: Cine Kodak model "B" movie camera in original leather case and Kodak 3A autographic folding pocket camera in original leather case, with group of 4 lenses and 2 filters,
all previously owned by JD Zumbrun.
Detailed inventory available on request.

美國籍攝影師John David Zumbrun(1875-1949)在1910年時來到了大清帝國的首都北京,並且接管了在當地一家頗有名氣名叫Camera Craft的攝影室。在接下來的二十年當中,Zumbrun以攝影師的身份忠實的記錄了當時正經歷極速轉變的中國,不論是外國人還是當地的居民都被這些照片深深的吸引,並大量的購買這些珍貴的歷史資料。然而在1921年末,中國政局動蕩不安,Zumbrun決定返回家鄉,將所有的照片史料分成三大箱打包裝箱,帶到了美國,且定居于加州。這三大箱寶貴的照片,靜靜的躺在當初一起漂洋過海的行李箱六十年,終於在Zumbrun去世後將透過這次在邦瀚斯的拍賣,首次與世人見面。

AN EXTRAORDINARY SURVIVAL OF THE ARCHIVE OF AN AMERICAN PHOTOGRAPHER ACTIVE IN BEIJING FROM 1910-29. 85 years after John David Zumbrun closed his Camera Craft studio and returned to the United States, the archive represents an outstanding historical record, thorough Western eyes, of the growing pains of a nation stripped of the ancient dynasties and traditions that had ruled it for millennia, and coming to terms with the new order that replaced it. Portraying town and tradesman, countryside and farmer, the Imperial Court, warlords, ambassadors, temples, palaces, gardens, the Forbidden City, as well as emerging populist movements, the images document a civilization in a period of great transition, as the largest nation on Earth moved from an imperial dynasty to civilian/military rule. It is a period of Chinese history rarely captured on camera– before the Japanese invasion of the 1930s reduced many of the old cities to rubble, and before the rise of Communism swept away the remaining vestiges of the old order. Comprising not only a full suite of photographs available for public purchase in Zumbrun's shop, but a considerable number of the negatives for these photographs, special panoramas, postcards, slides and colored autochromes, the archive stands as one of the few comprehensive visual records of a vanished era, and reveals Zumbrun to be a figure of major importance in preserving the period.