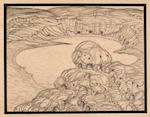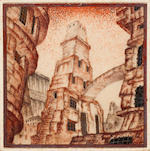 CHERNIKHOV, YAKOV GEORGIEVICH. 1889-1951.
Architectural Cycles divided between:
1. Architectural Romances, 1927-1936, in two black cloth-covered folders printed with titles, artist name and date 1936 and one red cloth-covered folder printed with artist's name; comprising manuscript title page inscribed in Cyrillic with title ("55 compositions"), Moscow, dated 1936, typed contents page, 27 original drawings in gouache, ink, pencil and mixed media (largest 4 x 5 1/2 in; 10 x 14cm) and 163 corresponding and additional publishing proofs (151 lithographic and 12 photographic proofs) tipped to larger sheets, some pages with typed title of the cycle.
2. Architectural Landscapes, 1930-1936, one black cloth-covered folder printed with artist's name, date 1936, title and comprising 30 loose original drawings executed in watercolor, gouache and ink on card (4 x 4 in; 10 x 10 cm), numbered and inscribed on reverse in pencil and 77 corresponding and additional lithographic proofs (a few duplicates) tipped to larger sheets.
3. Architecture of Industries, 1932-1936, in one black cloth-covered folder printed with artist's name, date 1936, title and comprising 22 original drawings in gouache and mixed media on paper (4 x 4 in; 10 x 10 cm) and 58 corresponding and additional lithographic illustration proofs (a few duplicates) tipped to larger sheets, some pages with typed title of the series on each page (one page left empty).
4. Architectural Variations, 1942 in two blue cloth-covered folders printed with title and artist's name; first folder comprising hand inscribed, dated folder jacket with title page and three typed pages of contents, 28 loose pages (14 conjoined pages) with 560 original pencil sketches (1 1/2 x 1 1/2 in; 4 x 4 cm) within ink frames; second folder comprising 24 pages (12 conjoined pages) with 393 original pencil drawings within ink frames.
5. Group of 42 loose original drawings (1919-late 1930s) related to the Architectural Landscapes, Architectural Fairy-Tales, and other architectural fantasies (largest 5 x 8 in; 13 x 20 cm, the rest are 4 x 4 in; 10 x 10 cm, three double-sided), some in pencil, others in colored or black ink, gouache and ink, or mixed media; one small original manuscript cover signed and dated 1934-1935 and titled "Fairy-tales."
Provenance: from the artist to his son, Aleksei Chernikhov; sold by Aleksei Chernikov in 1994 (letter from Aleksei Chernikov's widow dated 2004 confirms the sale).
Literature: Carlo Maria Olmo and Alessandro De Magistris. Jacov Černichov: Sowjetischer Architekt der Avantgarde. Stuttgart: Arnoldsche, [1995]. Images from the present lot are illustrated on pp 109-111, 114-115, 118-123, 131, 134-137, 139, and 170-176.

AN EXCEPTIONALLY RARE AND IMPORTANT GRAPHIC ARCHIVE OF YAKOV CHERNIKHOV, a tour de force of creativity, imagination and futuristic vision of the legendary Soviet architect and graphic designer who was often called the "Russian Piranesi." COMPRISING 122 MINIATURE DRAWINGS AND 953 PENCIL SKETCHES, this extraordinary archive is a testament to the importance of the creative genius who only recently has gained full recognition from the historians of architecture and art scholars. Surprisingly small in scale, these miniature masterpieces are meticulously executed yet densely packed with richness of detail. Their visual complexity and compositional variety speak to the extraordinary creative imagination of the artist. Yakov Chernikhov resented the narrow categorization of his art as "pure constructivist" form, and instead absorbed a multitude of contemporary artistic styles. Highly experimental, these exquisite graphic fantasies are powerful manifestations of the artist's belief that, in modern times, graphic art will became "another form of communication for human civilization."

Chernikhov's reputation was established after his important architectural drawings were featured in a number of publications during the late 1920s and early 1930s, including Foundation of Modern Architecture, Construction of Architectural and Industrial Form, Architectural Fantasies and 101 Compositions. These beautiful publications brought instant recognition to Chernikhov and became text books for the next generation of architects. The present graphic archive represents the artist's attempt to create series of architectural fantasies. The graphic material is arranged according to the series titles on the folders created by Yakov Chernikhov and is accompanied by corresponding publisher proofs in each folder. An additional group of drawings loosely related to various architectural fantasies constitutes a separate group that still awaits further research and classification.

(Архитектурные Пейзажи) Architectural landscapes series includes drawings dating to 1930-1936, many with corresponding publisher proofs, that the artist prepared for publication. In his notes Chernikhov explains that in this series he included depictions of civic and industrial buildings, exterior structures and panoramic views of the cities, which were fascinating to him because "they allowed an artistic approach to their representation" and endless variations that generated emotional response from the viewer: "the range of compositional constructions on the theme of architectural landscape is not only great, but boundless. It is very important and interesting to choose an appropriate viewpoint in the architectural landscape in order to show the artistic features of the displayed construction site – it is important because it can radically change the viewer's attitude toward the site. " Chernikhov is deliberate and disciplined in his craft albeit frustrated with limitation of contemporary publishing technology: "Not in any other of my works did I present so many methods and ways of reproducing the images as I did in the architectural landscapes. I brought the maximum capacity that I posses to the exquisite nature of my work. This allows the placement of these works of art in the category of architectural miniatures. The color reproductions which are presented here, in no way can illustrate the originals because the printing technique is not very well developed and is not satisfactory in this regard."

(Архитектурная Романтика) [Architectural Romances] was begun by the artist in 1931. He continued working on this series through the late 1930s and produced highly complex drawings showing clay, cave, wooden, stone and metal structures from pre-historic to modern times. The artist is passionately interested in the evolution of architectural forms through the centuries finding these pictorial exercises "serious, interesting and useful ... The history of human culture retained so little of the ancient architecture that in the majority of cases we are forced to hypothesize on the subject of the emergence of construction. Those stages in the development of the pre-historic construction technique that may have been present in different parts of the world [in the cultures] of pre-historic peoples completely elude us." The artist takes this lack of documented evidence on how the most ancient structures looked as a carte blanche and chooses a hypothetical and purely visionary approach allowing him to imagine the endless possibilities of the past. "In my compositions, I develop somewhat broader, richer and more fantastic romances of wood, pile, clay, cave and stone constructions of the pre-historic epoch. It is quite possible that among the fantasies of the architectural romances, there will be found many sites which in the future will gain a place in the history of artistic building development and in the history of the construction technique."

(Архитектура Индустрии) [Architecture of Industries], 1932-1936, demonstrates the strong influences of modern architecture on Chernikhov : "... industrial sites occupied a prominent place in my compositional and research works. It is also true that I am under the influence of time. The century of machinery and the century of gigantic industrial construction projects exercises its influence on every one of us...." He pays particular attention to the artistic depiction of the colossal industrial social constructions already underway in the Soviet Union in 1930s and even being planned for the future years. "The 'Industrial Architecture' (series) represents the work in which I strived to demonstrate the perfection of the artistic image of our industrial socialist construction. Due to the boundless space which is generally typical of industrial construction of all types of technological progress, the architect possesses the most powerful means for displaying those creative ideas. The gigantic construction projects, which are being carried out in a country with a classless society and on the colossal scale that such country allows ... find their direct expression in these architectural samples of industrial construction."

Additional sketches and drawings thematically connected with the series described above provide rich and valuable insight into the creative laboratory of the Russian visionary and theorist, and represent a powerful manifestation of his talent. Mostly unpublished, these architectural fantasies add immense depth to our understanding of the artist's ouevre and celebrate the creative legacy of the legendary artist.

A recent book published by Dmitrii Khmelnitsky (Yakov Chernikhov: Architectural fantasies in Russian Constructivism, 2013) discusses previously unpublished artist's designs and documents from the archives of his son, Dmitrii Yakovlevich Chernikhov; the material discussed in Khmelnitsky's book represents the companion part of the present archive.
Footnotes