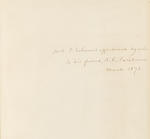 SOLOMON, SIMEON. 1840-1905.
A Vision of Love Revealed in Sleep. London: printed for the Author, 1871.
4to (250 x 178 mm). [4], 37 pp. Frontispiece photogravure by Frederick Hollyer after the author. Original blue cloth decorated in gilt. Hinges tender, faint soiling to endpapers, early annotation partially removed from rear pastedown endpaper, some wear to spine ends and corners, still a bright, attractive copy.
Provenance: the collection of Valerie E. Weich.

PRIVATELY PRINTED FIRST EDITION OF A LANDMARK WORK OF GAY LITERATURE; A PRESENTATION COPY, INSCRIBED TO ALGERNON CHARLES SWINBURNE. An outstanding association copy. The inscription reads in full: "With S. Solomon's affectionate regards / to his friend, A.C. Swinburne / March 1871." The main literary work of the Pre-Raphaelite and Symbolist painter Solomon, A Vision of Love Revealed in Sleep is a prose-poem allegory utilizing themes from Jewish and Christian mysticism to express erotic desire between males as aesthetically and morally acceptable. In recent decades it has come to be recognized as a pioneering work in the annals of gay literature. Swinburne wrote a favorable review of A Vision for Dark Blue Magazine in 1871.
Solomon's association with Dante Gabriel Rossetti and Edward Burne-Jones, as well as his friendships with prominent gay Victorians such as Walter Pater, Oscar Browning, George Powell, and Lord Houghton, were instrumental to his development as an artist. However, it was his intimate partnership with the pre-eminent Symbolist poet and critic Swinburne which proved essential. "The friendship between Simeon Solomon and Algernon Charles Swinburne, which lasted approximately ten years, produced some of the most aesthetically innovative and morally daring work of the 1860s and early 1870s. Both men were engaged in the production of revisionary masculine discourses which pushed the boundaries of the Victorian norm of heterosexual manliness by exploring alternative forms of desire and love between men, and by celebrating these in art, poetry, prose and criticism" (Morgan, Outlooks: Lesbian and Gay Sexualities and Visual Cultures p 62). Swinburne and many other of Solomon's friends distanced themselves following Solomon's arrest in 1873 for indecent behavior in a public lavatory, which proved ruinous to his career.