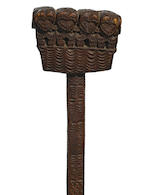 Rare Ceremonial Dance Paddle, possibly Ra'ivavae or Tupua'i, Austral Islands
Wood
length 27 7/8in (70.5cm)

PROVENANCE
Private East Coast Collection

Of diminutive size, the handle carved with a frieze of dancing figures, decorated overall with exceedingly fine "web" design; fine, dark-brown patina.

While the use of this paddle is unknown, in view of the delicateness and fragility, one can easily hypothesize that it was not intended for sea travel. The row of figures along the flat, bladed handle (versus the typical rounded Austral Islands paddle) are reminiscent of figures more commonly seen on Austral Islands drums (cf. Kjellgren, Oceania: Art of the Pacific Islands in the Metropolitan Museum of Art, 2007, fig. 181, formerly in the James Hooper Collection).

Another paddle, also in the Metropolitan Museum of Art, shows a similar flat, rectangular design, but with three rounded handles above (ibid, fig. 182, formerly in the collection of William Oldman).