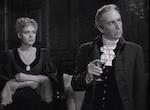 A Sir Cedric Hardwicke costume from The Howards of Virginia
Columbia, 1940. An 18th century style costume comprising a cream-colored cotton shirt with ruffled placket and hook-and-eye closures, stamped "9R6" on the inside; and a brown wool cutaway coat with dark brown trim, six buttons down the front, three each at the cuffs, two each at the pockets and two on the reverse. The jacket bears a green-lettered United Costumer Hollywood label with the typed inscription, "631A / Hardwicke." Accompanied by a copy of the film.

In The Howards of Virginia, Hardwicke plays Fleetwood Peyton, the patriarch of the Peyton family and brother-in-law of Matt Howard, played by Cary Grant.
Footnotes