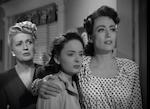 A Joan Crawford polka-dot dress from Mildred Pierce
Warner Bros., 1945. Three-quarter length long-sleeved rayon dress, originally white with polka dots but now overdyed to ecru, featuring square neckline accented with bows on either side, snap and hook-and-eye closures down the back of the dress and at the cuffs. Inscription in black marker on the interior reads: "TBS / 209," and a thin "Warner Bros., Pictures, Inc." label along the back closure inscribed in black ink, "-B- 2nd dress / 18905-638." Lacking original tie belt (brown and cream grosgrain belt supplied). Accompanied by a copy of the film.

On her first date with playboy Monte Beragon, Crawford's Mildred Pierce enjoys a swim in the ocean (borrowing a suit from one of Monte's "sisters," who, miraculously, all seem to be Mildred's size!) at Beragon's Malibu beach house. Afterward, she dons this smart polka dot number for their romantic fireside interlude.
Like many of the custom-made wardrobe items at Warner Bros and other studios, Mildred's dress went back onto the costume department racks and with minor alterations, had a second life in another production.
Footnotes