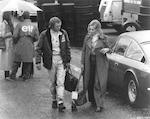 A Steve McQueen jacket from Le Mans
Solar Productions/Cinema Center Films, 1971. Glenoit & Lillja navy blue polyester rain jacket with ribbed cuffs, "Gulf Team Sweden" patch on chest and "Gulf" patch on left arm. Accompanied by a letter of provenance from the film's costume supervisor and a copy of the film.

McQueen stars as race card driver Michael Delaney competing in the famed 24-hour Le Mans race in France. The film was not a commercial success upon its release but has become a cult favorite among car enthusiasts for its accurate depiction of the race.
Footnotes