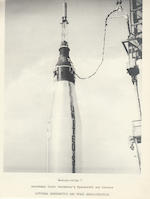 NASA AND SCOTT CARPENTER—SIGNED.
Large halftone illustrations with captions. NASA, 1962. 9 pp. 10 ½ by 8 inches. Sheets with single staple binding having full page images.

SIGNED by SCOTT CARPENTER on the first sheet.

Features classic images of Scott Carpenter in his space suit, moving to the launch pad, the actual Atlas launch, Mission Control, and his return.