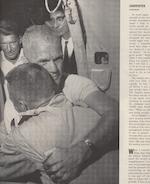 CARPENTER DESCRIBES HIS FLIGHT FOR LIFE MAGAZINE – SIGNED.
LIFE Magazine. New York: Time-Life, June 8, 1962.
Over 170 pp. 13 by 11 inches. Original printed wrappers.

SIGNED by SCOTT CARPENTER on the front cover.

The complete issue featuring a Carpenter headline on the front cover. The 15 page article has several color photographs from space taken by Carpenter plus several by LIFE staff photographers. Carpenter writes a detailed story of his experience including the near disastrous re-entry which reads in part: "This has been the greatest day of your life. You've got nobody to blame for being in this spot but yourself. If you do right, you may make it. If you don't do right, you're just going to buy the farm." Carpenter did struggle and landed some 250 miles way from his target but made no real estate purchases that day.