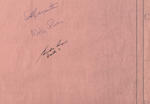 MERCURY HEAT SHIELD DRAWING BLUEPRINT—SIGNED.
E. O. Extension Drawing blueprint. McDonnell Aircraft Corporation, St. Louis, MO, March 24-25, 1961. 22 by 34 inches, 1/4 scale. Stamped: "Reference Only, APR-5, 1961."

BOLDLY SIGNED by SCOTT CARPENTER and WALLY SCHIRRA. SIGNED and INSCIRBED: "GORDON COOPER, Faith 7" and "MAX FAGET, Mercury Designer."

Illustrated is a deployed Mercury heat shield showing the locations of spacecraft main base ring, clamp, and spring assemblies with the latter two having an enlarged drawing. These assemblies would allow deployment of a "landing bag" between the spacecraft and heat shield which would lessen the vehicle's impact during a planned ocean "splashdown" or possible unscheduled solid surface landing.