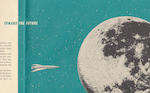 EARLY MERCURY COMMUNICATIONS AND TRACKING BOOKLET—SIGNED.
Communications for Mercury. Sandia Corporation, 1961.
12 pp. 6 ½ by 8 ½ inches. Original tan wrappers.

SIGNED and INSCRIBED with their individual Mercury Atlas (MA) number: "SCOTT CARPENTER MA-7, GORDON COOPER MA-9" and "WALLY SCHIRRA, MA-8."

Future communications roles for the Bell System, Western Electric, Sandia, and other subsidiaries are explained in detail along with artist illustrations showing various Mercury flight phases. The Mercury world-wide tracking network is made from a combination of land lines, submarine cables, and radio links. Plans are described how astronaut voice and spacecraft telemetry will be processed over the tracking network.