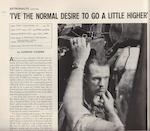 LIFE INTRODUCES THE ASTRONAUTS—SIGNED.
LIFE Magazine. New York: Time-Life, September 14, 1959.
Over 170 pp. 14 by 11 inches. Original printed wrappers.

SIGNED by SCOTT CARPENTER, GORDON COOPER, and WALLY SCHIRRA on the front cover.

The complete issue featuring all the Mercury astronauts on the front cover. Each of the seven astronauts has written an article on important aspects of the Mercury space flight program and his desire to participate. Extensively illustrated with early training photographs. Time-Life held an exclusive contract to publish the story of the astronauts.