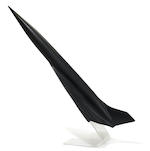 ROCKWELL X-30 SPACE PLANE.
Fiberglass model, 40½ inches long, 13½ wingspan, on plexiglass stand. Tip of nose chipped. Manufactured for NASA by Wonderworks, 1980s.

Large model of the Rockwell X-30 NASP (National Aero-Space Plane), a single-stage-to-orbit spacecraft. While there was a significant amount of development work put into the place, a prototype was never made, and the program was cancelled in the early 1990s. The X-30 was to be a scram-jet based aircraft, with a maximum speed of Mach 8.