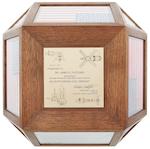 APOLLO'S TOP LEVEL AWARD WITH FLOWN FLAGS.
Desktop presentation from Johnson Space Center Director Chris Kraft to NASA Administrator Dr. James C. Fletcher, comprising three flown flags, each 4 x 6 inches, and accompanying plaques. Mahogany, the flags behind lucite panels. 13 by 13 by 6 inches. The Apollo-Soyuz Test Project flag with white areas rather reddened.

WITH FLOWN AMERICAN FLAGS FROM APOLLO 17, SKYLAB 2, AND ASTP—key missions in which Fletcher was intimately involved.
The upper plaque records the presentation on April 21, 1977 to Dr. Fletcher, "an outstanding civil servant,". Four smaller plaques detail the flown US flags and highlight all human space flight programs and the specific missions which were under Fletcher's leadership: Apollo 14, 15, 16, 17 and ASTP, all Skylab missions, and the Space Shuttle program. The gift was made on the occasion of Fletcher's retirement, although he would later return to NASA as Administrator in the wake of the Challenger disaster. Not only did Fletcher lead NASA during its most iconic historical moments, he is also the only individual to have served as the leader of NASA twice.
The fourth side of the presentation leaves room for a flag from the Shuttle program: Fletcher gained the approval of the Nixon administration in 1972 to develop the Space Shuttle as the continuation of human space flight after the Apollo program. The first manned Shuttle flight did not take place until 1981, some four years after Fletcher's retirement, so a plaque in the form of a detailed letter from Kraft acts as a place-holder, titled: "This space reserved for Space Shuttle flag." In all likelihood, Fletcher did receive the US flag reserved for him by Kraft on STS-1 but never added it to this presentation, preferring to retain the very thoughtful plaque from Kraft.
Mission Control at Johnson Space Center has recently been renamed in Kraft's honor, known as the "father of Mission Control Houston", he paved the way to land a man on the moon. Included in the lot is a program from the dedication ceremony, and a set of both iconic and lesser-known images in digital format of the Space Shuttle program and the Apollo missions these flags flew on.