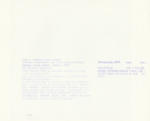 THE LUNAR LIFEBOAT PRIOR TO LAUNCH – SIGNED.
Black and white photograph, 10 by 8 inches, blue NASA captions on verso.

INSCRIBED and SIGNED: "LM – 7 tests, FRED HAISE, Apollo 13 LMP." LM – 7 was the 7th flight qualified Lunar Module built by the Grumman Engineering and Aircraft Corporation.

The Apollo 13 Lunar Module Ascent Stage under goes tests prior to launch at the Kennedy Space Center. This vehicle enabled the Apollo 13 crew to survive the long trip back to earth after the oxygen tank explosion.