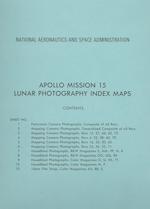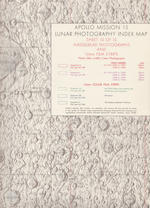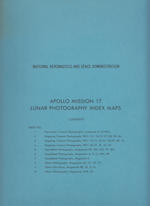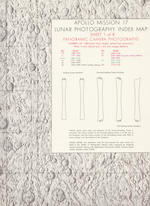 GUIDES FOR ALL ORBITAL PHOTOGRAPHY FROM APOLLOS 15 AND 17.
EIGHTEEN FOLDED MAPS PLOT PHOTOGRAPHY FROM LUNAR ORBIT.
Apollo Mission 15 Lunar Photography Index Maps. Dept. of Defense, Aeronautical Chart and Information Center, USAF for NASA, March 1972. Ten folded maps. Apollo Mission 17 Lunar Photography Index Maps. St. Louis: Defense Mapping Agency Aerospace Center, USAF for NASA, November 1973. Eight folded maps. Both 19 by 13 inches, blue card stock covers with staple bindings. All maps unfold to 19 by 57 inches except map 8 from Apollo 17 being 19 by 25 inches. All are scale 1:5,5000,000 and first editions. Based on photographic information supplied by the Manned Spacecraft Center Mapping Sciences Branch.

Both sets of maps plot the orbits and lunar surface footprint of acquired photographic images using colored geometric figures. Camera types include the large format Panoramic, large format Mapping, 70mm Hasselblad, and the 16mm Maurer motion picture. Apollo 17 also has coverage of the flown 35mm Nikon camera. Each map has a legend which lists a group of camera frame numbers associated with each orbital pass using different colors, either red, purple, green, or black. This enhances individual footprint clarity when images occasionally overlap.