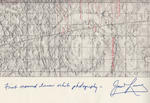 "FIRST MANNED LUNAR ORBIT PHOTOGRAPHY" SIGNED APOLLO MOON ORBIT CHART.
IMAGES OF THE EARTH FROM THE MOON INSPIRE HOPE FOR MAN DURING A TURBULENT YEAR - 1968.
Apollo Target of Opportunity Flight Chart (ATO), Apollo Mission 8, 21 December 1968 Launch Date. Aeronautical Chart and Information Center of the USAF for NASA. Part number SKB 32100097-301. First Edition, 2 December 1968. 14 by 58 inches. Scale 1:7,500,000.

INSCRIBED and SIGNED: "First Manned Lunar Orbit Photography, JAMES LOVELL, Apollo 8."

The Apollo 8 lunar flight during Christmas 1968 brought home some of the most inspirational images of the earth ever recorded from space. The turbulent year of 1968 bore witness to the assassinations of Robert F. Kennedy and Martin Luther King. Riots were common in many major cities. The Vietnam War appeared to have no end. The Apollo 8 earth and lunar photographs gave hope to many that man could move forward with peaceful intentions for life on earth.

The Apollo 8 crew of Frank Borman, William Anders, and James Lovell used an identical chart like this during their flight as denoted by the SKB 32100097-301 part number printed inside a legend block. This block has either circular or triangular symbol indicators with nine different colors defining either a 250mm or 80mm single frame photography targets. There are over 50 numbered photographic targets plotted.

An important task for this 10 orbit lunar mission was to photograph possible future Apollo landing sites and areas of scientific interest. A full line plot of the median lunar orbit ground track is shown in red. Near side and far side lunar shadow terminator areas have line marker ticks plotted perpendicular to the spacecraft orbital path. The limit of earth shine is plotted near the 75W longitude spot.