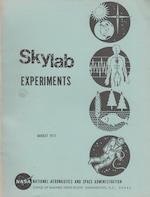 DETAILS ON THE SKYLAB S082A SPECTROHELIOGRAPH CAMERA AND MAGAZINE.
Three volumes, all having sections describing the S082A camera, other solar observation equipment, and earth observing cameras plus other science equipment. All published and released by GPO and NASA. Each has their original paper wrappers. 10 by 8 and 9 by 6 inches in size.

Skylab, A Guidebook, EP-107. 1973. 245 pp. Skylab Experiments. August 1972. 212 pp. Skylab New Reference. March 1973. Over 250 pp.