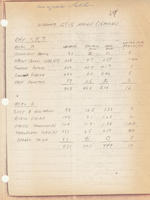 COOPER SIGNED DOCUMENTS FROM HIS COLLECTION.
Gemini Program Flight Summary Report, Gemini Missions I, II, III, IV, V, VI-A, and VII. Houston: NASA Manned Spacecraft Center (MSC-G-R-66-5), July 1966. 30 pp. 10 ½ by 8 inches. Heavy card stock with staple binding. Having manuscript underlining and other notations by Cooper on pages 17, 18, and 20, being part of the Gemini V summary.

INSCRIBED and SIGNED: "My personal copy - GORDON COOPER" on the front cover.

Additionally, Alternate GT-5 Menu. Cooper's MSC Astronaut Office internal distribution copy dated August 15, 1965. 4 pp. Single staple binding. Lists various meals (A, B, C) and the alternating flight days for each. Protein content, calories, and water amount needed for rehydration are examples of tabulated data recorded.

INSCRIBED and SIGNED: "From my collection – GORDON COOPER" along the top of the first sheet.