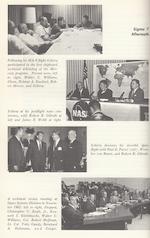 A MERCURY FLIGHT CONTROLLER'S BOOK—SIGNED.
SWENSON, LOYD S., JAMES M. GRIMWOOD and CHARLES C. ALEXANDER. This New Ocean. A History of Project Mercury. Washington: GPO/NASA SP-4201, 1966. 681 pp. Illustrations and diagrams, two folding charts. 10 by 7 ½ inches. Original cloth.

SIGNED AND INSCRIBED on the half-title page: "SCOTT CARPENTER, Aurora 7; GORDON COOPER, Faith 7" and "WALLY SCHIRRA, Σ7." INSCRIBED and SIGNED on the front endpaper: "Received from NASA Jan 30, 1967, Carl R. Huss."
Provenance: From the library of Carl Huss, NASA Mercury Retrofire Controller. Includes a 6 by 8 inch black and white photograph of Huss at his Mercury Mission Control Retrofire station with John Glenn seated to his left.

One of the most detailed publications ever written on Project Mercury. Subjects include early design and flight concepts, spacecraft and booster development, test flights, and mission support. All six manned Mercury flights are reviewed in minute detail.