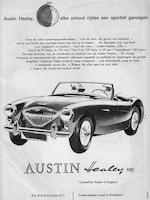 Mille Miglia eligible, delivered new to Holland
1953 Austin-Healey 100/4 BN1 Roadster
Chassis no. BNH/143726
Engine no. 1B/139166
This left-hand drive Austin-Healey 100 was delivered new to the Netherlands' importer R S Stokvis & Zonen in Rotterdam. Dutch registered 'PG-87-06', it is a 1st-series model equipped with the three-speed gearbox with overdrive on 2nd and 3rd gears. In the 1970s the Healey belonged to a young medical student, Mr Etto Van Waning from Arnhem, Netherlands, whose family had owned the car since the 1960s. It is believed that they purchased it from the first or second owner. During his student days, Etto shared accommodation with another young motoring enthusiast, Mr Willem Driessen, who was studying to become airline pilot. Willem Driessen owned an Elva Formula Junior monoposto and the two friends decided to swap cars. So Etto went home with the Elva and Willem went home with the Austin-Healey. Both men later participated in the first Historische Auto Ren Club (HARC) races in Arnhem, Holland in 1976, Willem Driessen often with this Austin-Healey.

Serving at the Leeuwarden airbase and later at Schipol airport, Mr Driessen kept this Austin-Healey, one of four he owned at various times, for many years and in the mid-1980s had the car re-sprayed in its original colour scheme of Ice Blue over white. 'In winter times I had nice warm feet when driving the Healeys,' he later recalled. 'I always enjoyed these cars and they always brought me back home, with or without the exhaust!' Having met a fellow old-car enthusiast on one of his flights, Driessen agreed to swap his car for his Porsche 356 Super 90 Cabriolet. By this time he had owned the 'Big Healey' for around 13 years.

'PG-87-06' remained with its new owner for the next 26 years. Soon after the swap it was partially restored; however, the owner was not happy with the result and in 1997 had it treated to a complete (body-off) restoration by marque specialists Cardol in the Netherlands. New alloy panels were used during the rebuild (see photographic record on file). Subsequently the car was stored at the premises of a classic car specialist where, quite by chance, Willem Driessen happened to see it and recognised it as the one he had owned during the 1970s and '80s. Still resident in the Netherlands after 60 years, the Healey is presented today in 1st class condition and offered with BMIHT certificate and Dutch registration papers.