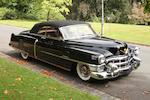 1953 Cadillac Series 62 Convertible Coupé
Chassis no. 536273698
'The Cadillac is a vehicle manifestly intended to cover long distances at a high cruising speed whilst demanding the absolute minimum of effort from the driver and imposing the smallest possible distraction upon the passengers.' It is abundantly clear from the foregoing that Motor magazine found much to commend in the Series 62 Cadillac when testing Briggs Cunningham's personal car early in 1950. Indeed, a Cunningham-entered Cadillac Coupe De Ville finished 10th at Le Mans that year driven - in lounge suits - by the Collier brothers.

Although the body style featuring GM styling chief Harley Earl's Lockheed P38-inspired tail fins had made its debut the preceding year, 1949 was nonetheless a landmark year for Cadillac, this season's models being the first to benefit from the company's new 5.4-litre, overhead-valve V8. Replacement for Cadillac's long-running 5.7-litre sidevalve unit, the new engine was untypical in having over-square bore/stroke dimensions and, despite the overhead valve gear, managed to be both more compact and lighter than its predecessor. A maximum output of 160bhp meant that 160km/h was within the reach of most models, with comfortable cruising between 130 and 150. Revisions for the succeeding few seasons were chiefly limited to styling changes. Hydraulically operated 'power' windows was a feature of the Convertible and Coupe DeVille by this time, while Hydra-Matic automatic transmission was standardised from 1950 on all Series 62 models. The Series 62 was the larger of the two mainstream Cadillac model lines, being positioned between the 'small' Series 61 and the long-wheelbase Series 75 reserved for the Fleetwood-bodied limousines.

The most expensive model in the Series 62 line-up, this five-seater Convertible Coupe was delivered new in New Jersey, USA. We are advised that it was first registered in 1955 and used until 1963 before being laid-up. The car remained off the road for the next 45 years before being rediscovered in 2008 and partially restored (paint, soft-top, chromed trim) though the magnificent red leather interior was left untouched. Highly original, this beautiful Cadillac soft-top displays a total of only 24,500 miles on the odometer and is described as in generally excellent condition. The car is offered with German registration papers and TüV.