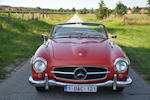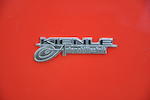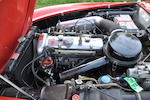 1956 Mercedes-Benz 190SL Roadster
Chassis no. 1210406500398
Engine no. 121921650399
In 1954 Mercedes-Benz had introduced the 300SL sports car, a 'Gullwing' coupé inspired by the German manufacturer's highly successful 300 Super Leicht series of sports-racers that had spearheaded its return to international competition. Expensive and exclusive, the 300SL caused a sensation and set new standards for high performance sports cars. Introduced at the same time was a cheaper, less exotic but no less refined sports roadster: the 190SL. Based on the 180 saloon whose all-independently-suspended running gear it used, the 190SL did not enter production until January 1955, the delay being caused by alterations aimed at strengthening the saloon's shortened platform to compensate for the open body's reduced stiffness.

Mounted on a detachable sub-frame together with the four-speed manual gearbox, front suspension and steering, the power unit was a 1,897cc overhead-camshaft four - the first such engine ever to feature in a Mercedes-Benz. Breathing through twin Solex downdraft carburettors, this M121 unit produced 105bhp at 5,700rpm, an output sufficient to propel the 190SL to 100km/h in 14.5 seconds and on to a top speed of 171km/h. It was also relatively economical. The 190SL was more comfortable than the typical British sports car but the fact that its ride was more boulevard than sporting did nothing to deter sales. The model was a big hit in the USA, where many of the slightly fewer than 26,000 produced between 1955 and 1963 found homes.

This matching-numbers 190SL was originally supplied as a roadster with removable hard top and delivered new to Frankfurt am Main, Germany. The car was delivered finished in white with black hard top and red leather interior, equipped with two rear seats and whitewall tyres. Its first owner was a Mrs Brigitte Apel. During the 1980s the 190SL was serviced by professional Mercedes-Benz restorers Kienle GmbH in Germany and subsequently was sent to them for complete restoration. Completed in 2006, this was a very thorough body-off rebuild, the body being stripped and the engine and other mechanical components completely overhauled. Kienle then bought the car and offered it for sale. In April 2010 the last owner bought the car from Klaus Kienle. Since acquisition the 190SL has been serviced annually immediately prior to summer by the local official Mercedes-Benz dealer (invoices available). Driven only occasionally in sunny weather, the car has covered some 3,000 kilometres since its purchase in 2010 and is described as in generally excellent condition. Offered with factory delivery document, Belgian registration papers and roadworthiness certificate, it also comes with the original toolkit, spare keys, owner's manual and service booklet, the latter dating from the 1980s when the car first came to Kienle. A right-hand side exterior mirror and rear fog light are the only notified deviations from factory specification.