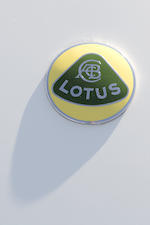 1960 Lotus Elite Series II
Coachwork by Bristol

Chassis no. 1296
Engine no. 8863

1,216cc SOHC Inline 4-Cylinder Alloy Engine
2 Weber Carburetors
Approximately 95bhp at 6,300rpm
4-Speed Manual Transmission
4-Wheel Independent Suspension
4-Wheel Disc Brakes

*Extraordinarily well-restored Elite
*US-delivered, factory left hand drive example
*Exhilarating and cleverly engineered sports car
*Few long-term owners since new
*Colin Chapman's legendary lightweight GT

The Lotus 14

With the Lotus 14 of 1959 - better known as the Elite - Colin Chapman demonstrated that his skills as a racing car designer and constructor could just as easily be applied to production road cars.

Just as innovative as Lotus's outright competition cars, the Elite featured a fiberglass monocoque body tub, independent suspension all round (based on that of Lotus' racing monopostos) and four-wheel disc brakes, the rears mounted inboard. Its engine was the four-cylinder Coventry-Climax FWE, a single-overhead-cam unit of 1,216cc producing 75bhp initially, while the gearbox, an MGA unit fitted with an alloy casing and modified bellhousing, was sourced from BMC.

The classically-styled body - the work of stylists Peter Kirwan-Taylor, John Frayling, and aerodynamicist Frank Costin - possessed an admirably low coefficient of drag, though it made few concessions for comfort or noise suppression. That is not likely to have bothered the Elite's customers, for whom its 112mph top speed and superlative handling were of far greater importance than creature comforts. Indeed, so successful was the Elite on the racetrack that the car dominated its class well into the 1960s. Noteworthy achievements include five class victories at Le Mans and two wins in the prestigious 'Index of Thermal Performance'.


The Motorcar Offered

The excellent example the brilliant Elite offered here, chassis number 1296, was delivered new to US Lotus distributor Chamberlain of Burbank, California. Owner Jay Chamberlain had secured the US Lotus import franchise after a successful international racing career, notably topped by his class win at the 1957 Le Mans 24 Hours, where Chamberlain competed in a Lotus Eleven.

Invoiced on August 8th, 1960, 1296 was configured as a left hand drive car, built in the second series of Elite production, benefitting from the higher-quality coachwork constructed by the Bristol Aircraft Company. The car was fitted with Coventry Climax engine number 8863, the same unit in the car today, and finished in a racy white color over a red interior. The immediate history after being sold from Chamberlain remains unknown, but when acquired by Maryland resident Harold Allen in the mid-1970s, the Elite is said to have been in good, well-kept condition. Mr. Allen would keep the Elite, mostly in static storage, until 2011when it was purchased by a Southern California based sports car enthusiast and restorer.

The new owner embarked on a full restoration soon after his acquisition, though the Elite was still in remarkably complete, solid and original condition. The body was stripped and refinished in its original white, and the interior was reupholstered in period-correct black vinyl, all done to exacting factory standards. The suspension and braking systems were refurbished as well. Engine work was performed by Coventry Climax specialist Bill Hutton Engineering in Clarksville, Tennessee, while the remaining aspects of the restoration and assembly were handled by the owner's own restoration shop in Southern California.

Today, the sporting Elite presents extremely well, and is poised to offer a tremendous driving experience on twisty roads or a racetrack. Very few Elites have been restored to the level seen here, and fewer still can be regarded as genuine as 1296. Offering iconic styling and exciting engineering, these cleverly designed sports cars are sought by enthusiasts around the world; here is a chance to acquire a fine example.