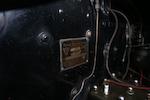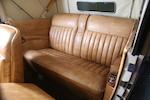 1933 Packard Eight Model 1002 Convertible Victoria

Coachwork by Dietrich, Inc.
Chassis no. 627-39
Engine no. 371218

320ci Side-Valve Inline 8-Cylinder Engine
Single Carburetor
120bhp at 3,200rpm
3-Speed Manual Transmission
Front and Rear Leaf Spring Suspension
4-Wheel Servo-Assisted Drum Brakes

*Offered from the Heritage Museums & Gardens Automobile Collection
*Desirable open coachwork by the famed coachbuilder Dietrich
*High quality Packard from the peak of the classic era
*In same ownership for over 45 years
*CCCA Full Classic™


The Packard Eight

Always built to the highest standards, the Packard was unquestionably one of the finest American cars of the pre-war era. First introduced in 1924, the Eight was notable as the first Packard to employ four-wheel brakes. Its side-valve straight-eight engine developed 85bhp from 5.9 liters, and the model Eight line-up initially comprised ten models on two wheelbase lengths. In 1927 the engine was enlarged to 6.3 liters and a smaller 5.2-liter Standard Eight introduced for 1929, the larger engine continuing to power the Custom and DeLuxe Eights. The latter was re-christened 'Super Eight' for 1933, by which time all Packards featured synchromesh transmissions.

The height of the Depression did not dampen the artistic inspirations of the automobile industry. The years 1930–1937 produced some of the finest styling seen in the automotive world even to this day. Packard in particular, though always producing beautifully styled and functioning machines before, truly spread its wings during this period. Like many great works of art, some of humanity's greatest triumphs are inspired during the toughest times.


The Motorcar Offered

Built on the 136-inch wheelbase, the model 1002 was offered with 13 individual body styles. Arguably, none were more in tune with the coachbuilding fashions of its era than the Convertible Victoria. The more austere times and trends perhaps dictated a shift towards all-weather designs, allowing one car to suit multiple climate conditions, rather than needing a stable of bespoke automobiles each with a specific purpose. For this fashionable style Packard turned to the styling and coachbuilding firm Dietrich, Inc. of Detroit, Michigan. Founded by Raymond Dietrich, the firm reached a mythic status with their handsome and innovative styling, and Dietrich became a frequent collaborator with Packard; their designs as applied to these chassis today represent some of the most revered models of the Classic era.

1933 Packards are wonderfully made and styled automobiles - it was only a shame there were so few who could afford to buy them. 10th series production totaled a meager 4,800 units, a far cry from the 16,613 for the 9th series, and way down from the nearly 55,000 sold in 1929. The 10th series would represent Packard's smallest output of the Classic era. Priced at $2,780, the Convertible Victoria was one of the more expensive body styles available, and would no doubt have only accounted for a modest percentage of the 1,099 Eight chassis built. It is believed that far less than 100 Convertible Victorias were produced in 1933, the example offered here being the 39th produced.

Josiah K. Lilly, III, acquired this Convertible Victoria in his heyday of collecting during the mid-1960s. Appropriately he had chosen to buy the car from Tom Mix, the long term Packard aficionado and owner of Foreign Motors, on Commonwealth Avenue in nearby Boston. From the file accompanying the car, it would seem that it was in need of restoration at that time and would remain at or return to Foreign Motors for an engine rebuild as well as a complete restoration of paint and chrome, rewiring and other details. Around the same time, the Packard was re-trimmed by local upholsterer Frank Hansen of Lexington, Massachusetts. All told the work carried out approached $10,000, a significant sum in its day.

For more than 45 years this Packard has resided in the Heritage Museums & Gardens Automobile Collection, where it has for the most part been on display in their Sandwich, Massachusetts-based Museum. During that time it has taken on a light cosmetic age, however a close inspection reveals a straight and very sound example with good panel-fit. A particularly rare feature is its correct period radio installed in the dash. The car's road use has been limited, though it has been systematically turned over and occasionally run. In preparation for the auction, the car was checked over and has been running and driven, but we would advise a more in-depth mechanical check be carried out before active use.

Presented from this prestigious collection is a Packard of high quality from the marque's best era, in a sophisticated Dietrich Convertible Victoria design that rarely comes to market.
Saleroom notices
Please note that the title for this vehicle is in transit.