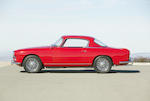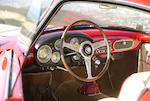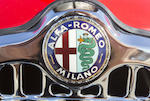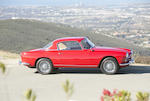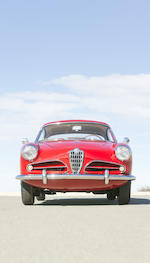 1957 Alfa-Romeo 1900C Super Sprint
Coachwork by Touring

Chassis no. AR1900C 10596
Engine no. AR 1308 10564

1,975cc DOHC Inline 4-Cylinder Engine
2 Solex 40IDA Carburetors
115bhp at 5,500rpm
5-Speed Manual Transmission
Front Independent Suspension – Live Rear Axle
4-Wheel Drum Brakes

*Late 1900C Super Sprint with floor shift
*Matching numbers example
*Stylish Touring Superleggera alloy 3-window Coupe coachwork
*Eligible for prominent pre-1958 driving events
*Documented by Alfa Romeo Historical Department


The Alfa Romeo 1900

Its factory devastated by wartime bombing, Alfa Romeo did not resume car production until 1947, the pre-war 2500C serving the Milan marque in good stead until 1952. The firm's first all-new offering of the post-war period arrived in 1950. Designed by Dr. Orazio Satta Puliga and intended for volume production, the 1900 was the first Alfa to employ unitary construction and - in keeping with the company's sporting heritage - was powered by a twin-overhead-camshaft engine.

Although ostensibly a humble family conveyance, the 1900 was endowed with sporting credentials which extended beyond its power unit, owners enjoying the benefits of wishbone and coil spring independent front suspension and an exceptionally well located live rear axle. It should have surprised nobody, therefore, when the 1900's potential was realized in the form of two high performance derivatives. Launched in 1951, the short-wheelbase 1900C Sprint featured bodywork by Pinin Farina (cabriolet) and Touring (coupe), both models utilizing the 100bhp engine of the 1900TI saloon. The Touring-bodied Sprint Coupe attracted such public acclaim that it was subsequently adopted as the basis for all future 'aerodynamic' Alfa Romeo coupes.

The Sprint Coupe was designed to offer sporting performance together with '2+2' accommodation, while the heart-shaped vertical grille with matched horizontal side intakes became an Alfa trademark on later models. In June 1954 the engine was enlarged to 1,975cc and the model re-designated as the 'Super Sprint'.

From 1956 a new 3-window body was offered for the 1900 chassis by Touring, also in the Superleggera style. With 115bhp on tap and possessing an excellent power-to-weight ratio courtesy with the alloy body, these cars could top 115 mph. The 1900 in all its guises shone in competitions of all kinds, such as the Mille Miglia and Targa Florio, and remains one of the most successful cars produced by the Italian manufacturer.

The Motorcar Offered

According to factory information supplied by Alfa Romeo's Automobilismo Storico Centro Documentazione, this lovely example was manufactured at the Alfa Romeo works on July 27, 1957. The new Alfa Romeo was configured exactly as it appears today; a 1900C Super Sprint, fitted with a center mounted 'joy-stick' gearshift, and clothed in Touring's three-window Superleggera Coupe coachwork. The car was finished in red, configured with a left-hand steering configuration and destined for American, where on December 18, 1957 it was sold to Max Hoffman's Hoffman Motor Car Company.

The 1900C Super Sprint is believed to have remained in the US ever since. Although its early history remains unknown, the car was owned by renowned Omaha, Nebraska-based collector Val Chickinelli by the 1990s. Chickinelli's collection amounted to over 100 cars in its heyday, many of these extremely important models, including, incidentally, the 1935 Auburn 851 Speedster also in today's auction.

Purchased by the consignor, a Southern Californian lifetime automotive enthusiast, in 2011, the Alfa Romeo has recently received a thorough mechanical refurbishment and cosmetic freshening inside and out. Painted a sporting red color, similar to that in which the car was delivered back in 1957, this 1900C Super Sprint presents extraordinarily well. It is fitted with chromed Borrani wire wheels and a wood-rimmed Nardi steering wheel, and benefits from the uprated Super Sprint performance specifications, as well as its desirable factory floor-shift transmission. Built in 1957, the 1900 is eligible for top driving events worldwide, such as the California Mille and the Colorado Grand. A great choice for rallies and a model that begs to be taken out on the open road, this 1900 represents one of the last of Alfa's formidable 1900 series and wears some of the most attractive coachwork applied to the model.