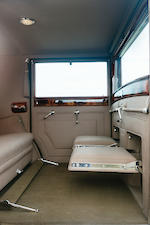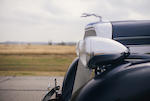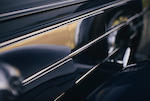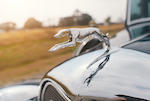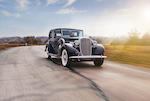 1935 Lincoln Model K 304-B Non-Collapsible Cabriolet
Coachwork by Brunn & Company

Chassis no. K4280
Engine no. K4280

414ci L-Head V12 Engine
Single 2-Barrel Carburetor
150bhp at 3,800rpm
3-Speed Manual Transmission
Front and Rear Leaf Spring Suspension
4-Wheel Bendix Duo-Servo Mechanical Drum Brakes

*Subject of a nearly $400,000 restoration
*Numerous Concours awards
*Elegant coachbuilt Lincoln
*One of only 13 Non-Collapsible Cabriolets built and one of only four remaining
*CCCA Full Classic® qualification


The Model K

The big, smooth L-head 67° V-12, which Lincoln engineers designed for 1933 models to succeed the 60° V-8 designed by Henry Martyn Leland for his first Lincoln automobiles, was in the mainstream of 1930s classic car design. Increased to 414 cubic inches in 1934, neither its L-head design nor the single carburetor that fed it fuel and air contributed to its scintillating performance. It did, on the other hand, have ample torque delivered with silky multi-cylinder smoothness and would pull steadily from negligible revolutions.

Edsel Ford had long since resolved the first Lincolns' stodgy body designs by relying on Ford's own designers and a loyal retinue of coachbuilders including Brunn, LeBaron, Willoughby and Judkins. The coachbuilders supplied both individual bodies and a steady stream of up-to-the-minute ideas which could be incorporated in Lincoln's own coachwork. 1935 brought important visual changes in Lincoln design with the passenger compartment moved forward on the wheelbase and the hood shortened accordingly. It was a design concept mirrored in Fords that year as well. Claimed benefits included a lower center of gravity for better handling and a smoother ride.

Although only 1,411 were built in 1935, Lincoln found enough demand to sustain itself during these difficult years of the Great Depression.


The Motorcar Offered

This Lincoln has clearly led a charmed life; it has been exceptionally fortunate to have fallen into the hands of very careful owners at least twice — the first time when it was ordered with one of the rarest bodies to grace a Model K in '35 and again less than four years ago when the current vendor began a nearly $400,000 restoration of the car to exacting, Concours-winning standards.

Among the custom bodies available was the unique Non-Collapsible Cabriolet style by Brunn seen here. Based off of the Semi-Collapsible Cabriolet that Brunn had debuted in 1929 on a Lincoln at the Paris Auto Salon, the elegant Non-Collapsible body style placed a fixed roof atop the rear passengers while still allowing the chauffeur to be set in an open cabin — similar to a town car. Carrying nearly identical lines to its open brethren with its padded top and faux landau bars, it would earn the moniker of the 'President's Car' when the first President of the Philippines ordered a Non-Collapsible Cabriolet — a car that still survives today at the Presidential Museum in Manila.

Only 13 Non-Collapsible Cabriolets were produced (and an identical number of Semi-Collapsible), but only four are known to survive today.

The early history of this car is as yet lost in the sands of time. It was acquired by the vendor from a Canadian body shop where it had sat for many years. Complete but in need of a total restoration, a high quality refurbishment was begun in 2009 to bring the car back to its former glory. Stripped to bare metal, every part was finished to the highest standards. All of the metal panels were thoroughly inspected and redone or replaced as needed with correct aluminum coachwork.

Finished in time for the start of the 2012 show season, it debuted at the Amelia Island Concours where it took Best in Class. It scored a similar result in Seabrook, Texas at Keels and Wheels and it continued its awards march at other Concours showings that year as well.

Judged as a 100-point car numerous times, it is certainly among the finest Lincoln Ks out there. With plenty of available opportunities to show and compete with the car, as well as inclusion in numerous exciting CCCA events as a Full Classic®, this elegant town car will unquestionably provide plenty of enjoyment for its next owner.