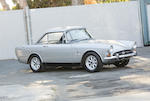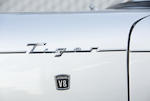 1966 Sunbeam Tiger Series I

Chassis no. B382001478 LRXFE
Engine no. 6322 B19KC

260ci OHV V8 Engine
Single 4-Barrel Carburetor
165bhp at 4,400rpm
4-Speed Manual Transmission
Front Independent Suspension – Live Rear Axle
Front Disc – Rear Drum Brakes

*Exclusively West Coast ownership
*Professionally restored with sensible modifications
*Offered with desirable hard top
*Thrilling Anglo-American hybrid
*Listed in the Tigers Owners Registry


The Sunbeam Tiger

Inspired by Carroll Shelby's success in shoehorning a Ford V8 into the AC Ace to create the Cobra, Rootes asked Shelby to perform the same trick with its Sunbeam Alpine sports car. Ford's 260ci (4.2-liter) unit was chosen, and even though it had 'only' 165bhp on tap it was approaching double the output of the contemporary Alpine's 1.6-liter four. The Sunbeam Tiger entered production in June of 1964, little more than a year after the prototypes built by Shelby had been released. The Pressed Steel Company Limited in Oxfordshire, England, supplied painted and trimmed bodies and the engines and gearboxes came directly from Ford in America. Assembly was handled at the Jensen Motors Limited plant in West Bromwich, England.

The Tiger featured a stronger gearbox and rear axle plus rack-and-pinion steering, and was vastly superior to its Alpine progenitor in performance terms; the Tiger stormed to 60mph in under ten seconds and peaked at 117mph. Sadly, the model was killed off by Rootes' new owner Chrysler shortly after the revised Series II Tiger, with the uprated 289ci V8, was introduced in 1967.


The Motorcar Offered

According to documents provided by the consignor, this Tiger left the factory in February, 1966, wearing Carnival Red paint with a black leather interior. It is believed to have been originally delivered to a Charles Tinkham of Peoria, and later Litchfield, Arizona. A detailed service and maintenance file was begun by Mr. Tinkham in April, 1969, noting that the car had been first registered in October of 1967. Tinkham drove the Tiger regularly, keeping careful records until, in 2004, he sold the car to Rodney Ebstein of Menlo Park, California. The consignor acquired the Tiger from Mr. Ebstein in 2007.

The consignor states that the car has been kept in dry storage for many years, with occasional drives since his purchase to keep its systems operating correctly. At some point, a previous owner had the car resprayed Polar Silver. Mr. Ebstein had noted Tiger expert Paul Reisentz of Santa Clara, California's Reisentz Restorations rebuild the entire suspension and brakes during 2004-2005, with parts supplied by Sunbeam Specialties. The interior was refurbished at the same time. The suspension components were powder-coated, while Koni shock absorbers and a rear axle stabilizer bar provide sure-footed handling.

The engine is a correct 260 cubic inch Ford V8 in good condition, but missing its correct factory air cleaner. It rides on a set of Panasport aluminum alloy wheels, six inches wide in front, and seven inches wide in the rear, which are mounted with older BF Goodrich radial tires. The Tiger is supplied with its correct removable steel factory hardtop with insulating headliner.

Listed in the Tiger Owners' Association Registry, this Tiger has provenance thanks to the careful record keeping of previous owners. An early Series 1 example, the Tiger is an exciting Anglo-American hybrid that has perhaps yet to fully come into its own with collectors; it is a great testament to Carroll Shelby's work that it lives on, continuing to provide motoring enjoyment nearly a half-century since it rolled off the production line.