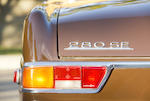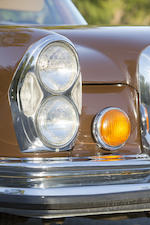 From the collection of Tom Hanks & Rita Wilson
1971 Mercedes-Benz 280SE 3.5 Cabriolet

Chassis no. 111027.12.003741

3,499cc SOHC V8 Engine
Bosch Fuel Injection
200bhp at 5,800rpm
4-Speed Automatic Transmission
4-Wheel Independent Suspension
4-Wheel Disc Brakes

*A fine example of Mercedes-Benz's last hand-crafted automobile
*One of just 1,232 built
*Factory-equipped with many desirable luxury features
*A modern-day classic
*Attractive color combination


The W111-Series Mercedes-Benz

Introduced in late 1969 as a prestige model to supplant the somewhat underpowered six-cylinder 280SE, the V8-powered, W111-Series 280SE 3.5 in both coupe and convertible form was of immediate appeal to wealthy customers who were accustomed to having the best quality and workmanship available in an automobile, but didn't need or desire the next step up, the over-the-top 600.

The hand-built body of the new model was slightly restyled, with a cleaner and flatter nose and radiator shell, but was still quite conservative. Beneath the wide hood there now rested a Bosch fuel-injected, 200bhp overhead-cam V8 with 211 foot-pounds of torque designed to deliver excellent performance. One reviewer referred to it as having a "hot-rod"- like persona with a lovely exhaust snarl - while meeting ever-more strict emissions laws in the US, the company's most vital market.

The compact but sturdy engine was capable of moving this big 4/5-seater to 60 miles an hour in under 10 seconds, and offered a top speed in excess of 125 mph. Large vacuum-assisted disc brakes at each corner allowed the driver to slow with ease, and handling was described as very comfortable, thanks to its coil-sprung independent suspension.

The craftsmen at Sindelfingen produced just 1,232 of these V8 Convertibles, making them extremely rare. Both the open and closed versions of the 3.5 were fitted with just about every luxury amenity a buyer could ask for. The few choices remaining pertained to paint and interior trim colors, which model of Becker stereo system was desired, and electric seat-back adjustment. It all added up to an impressively costly automobile, with a starting price exceeding $13,000.


The Motorcar Offered

This elegant 280SE 3.5 Cabriolet was built in January of 1971, leaving the factory wearing 423H Tobacco Brown paint, a brown folding weather-tight canvas top, and a full Cognac leather interior. It was fitted with a standard Behr air-conditioning system, a Becker Europa radio with an electric automatic antenna, tinted glass, right-side exterior mirror, and electric windows.

The fully-instrumented dashboard includes an analog clock and is surrounded by lovely polished wood burl trim that extends to the interior side of the A-pillars around the windshield.
The car presents very well today, with a very clean and inviting interior, recent Goodyear thin-line whitewall tires, and a tidy engine compartment. It appears to have been properly repainted in dark brown tobacco, complimented by a matching, fully-lined brown folding top with a glass rear window and a leather top boot; all in all, the Mercedes is a very pleasing package to behold.

When new, these automobiles were snapped up by business executives and celebrities, and today they appear for sale only infrequently. They are prized for their classic looks, modern driving characteristics, and as the ultimate and final hand-built Mercedes Cabriolet they represent carefree prestige at the highest level. Here is a rare opportunity to acquire an epochal, luxurious Mercedes-Benz classic that will turn heads wherever it goes.
Saleroom notices
Please note that the original radio, owner's manual, and soft top wrench, although not available for the preview, will be included with the motorcar post-sale.