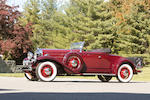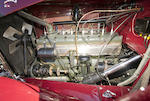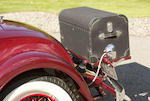 1931 Studebaker President Model 80 Four Seasons Roadster

Chassis no. 7033484

337ci L-Head Inline 8-Cylinder Engine
122bhp at 3,200rpm
3-Speed Manual Transmission
Front and Rear Leaf Spring Suspension
4-Wheel Drum Brakes

*Long-term ownership
*Coveted year and body style
*Desirable open-top Studebaker
*High quality older restoration
*A Classic Car Club of America Full Classic™


The Studebaker President

Studebaker Brothers, wagon makers since the middle of the 19th Century in South Bend, Indiana, had been active in commercial vehicle manufacture long before the arrival of the 'horseless carriage'. Having made a fortune out of horse-drawn transportation, the Studebaker Brothers Manufacturing Company built the first of its own automobiles - an 'electric' designed by Thomas Alva Edison - in 1902, and its first gasoline-powered motor car late in 1903. Studebaker enhanced its reputation throughout the 1920s with a succession of rugged six-cylinder models, but company president Albert Erskine wanted an eight in the line-up and the result was the President, which arrived in 1928.

As with so many cars of this era, the look achieved approaching the 1932 model year has become recognized as the zenith of the pre-war era in terms of styling. It is clearly evident in the 1931 Series 80 President, and no doubt reflects Eskine's use of Raymond Dietrich as a design consultant for the model. The cars gained a vee-shaped radiator and matched vee-dip on the front bumper, oval shaped headlights and carefully styled fender lamps which conveyed the same effect without standing too proud. The lightweight bodywork was perfectly in proportion and reaching its peak before the advent of filled in fenders and other styling cues. On the technical side, the '31 Studebakers benefited from free-wheeling, ball bearing spring shackles, carburetor intake silencer, ignition lock and a variety of other improvements.

That the model was a technical success came in the numerous endorsements it received in terms of reliability and performance. In 1931 a near-stock President would win the Pikes Peak Hill Climb, while one led the Indy 500 before slipping on an oil spill, curtailing another prominent victory for the brand. Some 11 new records were achieved at the Muroc Dry Lake including a flying mile at 91.79mph and averages of 90.35mph for the 100 mile and 1 hour records. A resilient and elegant automobile, the '31 Studebaker President has its place in the annals of automotive history.


The Motorcar Offered

This exceptional example of its marque and model would have been delivered new in the 1931 season and was appropriately termed the 'Four Seasons' Roadster, offering the versatility and sporting connotation of an open two seater, on which the windshield could be folded down or alternatively protecting at least its main two travelers with a full top and wind up side windows. The car carries a number of the options that were available, including front bumper, whitewall tires, dual side-mounts with covers, Trippe driving lights, trunk rack and trunk.

The car's early years are not charted, but between 1958 and 1983, the car is known to have lived in single ownership in Lancaster, Ohio, after which it passed to the last custodian, Whitney Kerr of Kansas City, Missouri. Shortly after, circa 1983, the car was subjected to a total frame-off rebuild by professionals, at a cost approaching $60,000 – a significant sum at the time! Not surprisingly, the result was stunning, and rewarded the car with some success in CCCA events, including a 98.5 at a Grand Classic meet.

Well looked after since, the Studebaker was in great shape when it arrived in its present long term ownership in 1997, and the President has continued to be cherished, sharing a stable with other sporting cars both pre- and post-war. It has been used only occasionally during the warmer seasons and as a result it remains in very fine order.

Today, as it did when new, the President offers a handsome alternative to the 'Three 'P's', with great looks and renowned performance. A Full Classic™ by definition, it should provide its next owner, who will be only its third in 55 years, an eminently usable tour or show car.