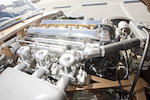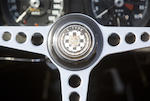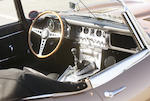 1962 Jaguar E-Type Series 1 3.8-Liter Roadster

Chassis no. 876520
Engine no. R3522-9

3,781cc DOHC Inline 6-Cylinder Engine
3 SU Carburetors
265bhp at 5,500rpm
4-Speed Manual Transmission
4-Wheel Independent Suspension
4-Wheel Disc Brakes

*Matching numbers early "flat floor" E-Type
*Beautifully restored by Richard Jenkins
*Complete with original hand book and tools
*Finished in its original color of Opalescent Bronze
*Offered with Heritage Trust Certificate


The Jaguar E-Type

Jaguar would make a habit of shocking the automotive world. Sometimes the impact of its cars reached beyond the showrooms and exposition halls to rock popular culture, yet not even Jaguar's founder, Sir William Lyons, could have predicted the impact of the Jaguar E-Type. When introduced at the 1961 Geneva Salon, the new Jaguar stirred passions with its extremely sleek and timeless design backed by staggering performance.

Constructed using methods derived from the D-Type sports racing car, the E-Type was a technical marvel. The light and rigid monocoque chassis used the engine itself as a structural part of the car, with the long and sleek bonnet hinged at the front. The headlights were beautifully recessed in the fenders, and covered with contoured Perspex for a free flowing design and improved aerodynamics. The car featured 4-wheel independent suspension, disc brakes all around and a Moss-type 4-speed manual transmission. The proven XK power plant was carried over from the XK150, and made sure the lithe Jaguar would exceed the 150mph mark. Often called the most beautiful production car of all time, the E-Type remains an automotive icon of design, engineering and speed.


The Motorcar Offered

This striking early "flat floor" E-Type was completed at the Browns Lane Jaguar works on January 9th, 1962. A left-hand-drive model destined for the United States, this E-Type was finished in the particularly attractive color of Opalescent Bronze over a black interior with a black top - precisely the same color combination it wears today. According to its Jaguar Daimler Heritage Trust Certificate, it was delivered to its first owner in New York State, a Mr. G P Edgar.

Its subsequent history has yet to be discovered, though when acquired by the consignor in 2011, the car had enjoyed 32 years of dry storage, having last been registered in New Jersey in 1979.

After this long slumber, a thorough recommissioning was entrusted to longtime Jaguar master technician Richard Jenkins, who has returned the E-Type to the spectacular condition in which it left the Browns Lane factory in 1962. The original matching-numbers engine was completely rebuilt retaining its original standard pistons, the cylinder bores were honed and new piston rings installed. The crankshaft was ground to .010" and new bearings and oil pump installed, then fully balanced. New timing chains and guides were fitted. The cylinder head was completely rebuilt updating the valves for use with unleaded fuel.

The matching-numbers transmission was overhauled with new bearings, seals, and gaskets, while the suspension was completely refreshed using original-style metalastic bushings. The Dunlop disc brakes were rebuilt to ensure proper stopping ability – important in a car capable of 150mph – while correct Dunlop RS5 tires were fitted for proper roadholding.

Meanwhile, the body was stripped to bare metal using walnut shells, and new floors and sills fitted before a repaint in the original Opalescent Bronze. Brightwork was all refinished by Sherms Custom Plating. Electrics were renewed throughout including a new wiring harness, while ancillaries such as the starter, dynamo, relays and motors (wiper, heater, and fan) were all rebuilt. As a testament to the remarkable originality of the underlying car, date stamps and date of manufacture tags corresponding to the production date have been found on the cylinder block, flywheel, and wiper motor, as well as Dunlop hydraulic components.

This beautiful, very early "flat floor" E-Type is offered with an impressive history file containing receipts, restoration photos and the all-important Jaguar Daimler Heritage Trust Certificate documenting that the car appears just as it did when new, and retains its matching numbers engine, transmission, and body. Complete with books, tools and a jack, here is a stunningly presented, exquisite example of the popular Jaguar E-Type.