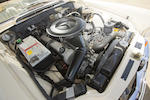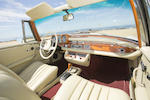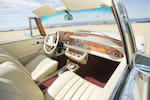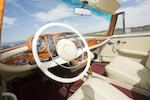 1970 Mercedes-Benz 280SE 3.5 Cabriolet

Chassis no. 111027.12.002505
Engine no. 116980.12.002300

3,499cc SOHC V8 Engine
Bosch Fuel Injection
200bhp at 5,800rpm
4-Speed Automatic Transmission
4-Wheel Independent Suspension
4-Wheel Disc Brakes

*Matching numbers example
*Impressive and correct restoration
*Factory delivered US model with floor shift
*The top-of-the-line model of the era
*Documented by Mercedes-Benz factory build sheets


The Mercedes-Benz 280SE 3.5

'If you feel obligated to ask about the price you not only will never understand the car, you have branded yourself incapable of ever appreciating its virtues even if someone gave you one.' Car & Driver on the Mercedes-Benz 280SE 3.5.

The 3.5-liter version of the 280SE typifies the resurgence of larger-engined Mercedes-Benz models that began in the late 1960s. The ultra-luxurious 280SE Coupe, Cabriolet and 300SEL saloon models were chosen by Mercedes-Benz to launch its magnificent new 3.5-liter V8 engine in 1969. An over-square design featuring a cast-iron block and aluminum cylinder heads, each equipped with a single overhead camshaft, this all-new, state-of-the-art power unit produced a torquey 200bhp, courtesy of Bosch electronic fuel injection and transistorized ignition. Thus equipped, the 280SE 3.5 was good for cruising speeds up near 125mph, with 60mph reachable in 9.5 seconds, a substantial improvement on the six-cylinder version's figures.

Although the equivalent SEL saloon used the 'New Generation' body-shell, the Coupe and Cabriolet kept the coachwork that had debuted back in 1959 on the 220SE and, as befitted top-of-the-range luxury models, came equipped with automatic transmissions, air conditioning, power windows and stereo radio as standard. The 280SE 3.5 was to be the final model to feature this much admired body style, and today these last-of-the-line top quality classics are highly sought after by discerning collectors.


The Motorcar Offered

This lovely example of Mercedes-Benz's classic 280SE was produced at the Stuttgart factory during September of 1970. It was configured as a left hand drive Cabriolet, equipped with the desirable floor-mounted gearshift, a Behr air conditioning system, electric windows front and rear, an automatic antenna and a Becker radio. The exterior was finished in 423 Tobacco Brown and topped by a nicely matching dark brown soft top, with the interior trimmed in Cognac leather. Destined for the US market, it was delivered here in 1971.

It remains unclear for how long the car stayed Stateside, but at some point it migrated east, to join the impressive private collection of Mr. Kenji Yamashita in Japan. Upon his purchase, the car was reported to be in rust- and accident-free condition, the type of classic car perfect for a restoration. Sometime after arriving in Japan, the 280SE received a very thorough restoration, covering both cosmetic and mechanical aspects of the car. More recently, the car returned to the US and came into its present ownership.

Consigned from a prominent Southern California collection of classic cars of superb quality, this 3.5 Cabriolet must be one of the finest examples available today. A great driving Mercedes-Benz, the consignor has regularly used this car to commute between his house and his collection - exactly the sort of use these cars are so great for, with room of course to bring your family or friends along. Finished in its original color of Tobacco Brown, it presents impeccably well. Still retaining its original, matching numbers engine and factory installed floor shifter, and maintained and driven with regularity, here is an opportunity to acquire a top-of-the-line, highly collectible Mercedes-Benz.

Footnotes
Saleroom notices
Please note that this car's exterior is finished in a light Ivory color, and not Tobacco Brown as stated in the catalog.