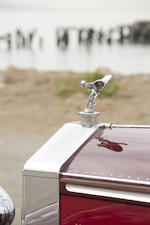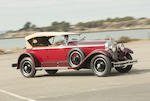 The ex-Henry Wing, William O'Connor and Paul Stern
1929 Rolls-Royce Phantom I Ascot Tourer
Coachwork by Brewster & Company

Chassis no. S178FR
Engine no. 21788

7,668cc OHV Inline 6-Cylinder Engine
Single Rolls-Royce Carburetor
113bhp at 2,300rpm
3-Speed Manual Transmission
4-Wheel Drum Brakes

*Well-preserved example retaining original coachwork and driveline
*Documented ownership history with extraordinary pedigree
*Recent refurbishment by professional UK restoration companies
*Offered with extensive history file
*Excellent example of the sporting Ascot Tourer


The Rolls-Royce Phantom I

Introduced by Rolls-Royce in 1925 to replace the revolutionary Silver Ghost, the New Phantom (retrospectively known as the Phantom I) boasted an entirely new overhead-valve six-cylinder engine displacing 7,668cc and, like the contemporary 20hp model, adopted a disc-type clutch and adjustable radiator shutters. Like its 'Ghost predecessor, the New Phantom was also produced by Rolls-Royce of America Incorporated, a subsidiary set up in December 1919 when the parent company purchased the American Wire Wheel Company's plant in Springfield, Massachusetts.

The new model was improved in both quality and performance, and by the end of the decade Rolls-Royce had become the car of choice among America's Jazz Age super-elite. (One famous, albeit fictional, Rolls-Royce owner was Jay Gatsby, protagonist of the F. Scott Fitzgerald novel, The Great Gatsby). Vogue magazine put it perfectly in their November 1929 article:

"Somewhere between you and the graceful little figure-head that rides that radiator, you know a powerful motor is purring. You know it by the ease with which you glide up hills, and by the swallow-flight of the scenery."

This period would prove to be the high point of Rolls-Royce of America's fortunes, the October 1929 Wall Street Crash and the introduction of the Phantom II – requiring re-tooling which the US company could not afford – signaling the beginning of its decline.

The American Rolls-Royce could be ordered with 'factory' bodywork, usually by renowned coachbuilders Brewster & Company. As well as manufacturing coachwork of the highest quality, Brewster had built its own automobiles from 1915 up to the time of its acquisition by Rolls-Royce. With the introduction of the Phantom I, Rolls-Royce and Brewster introduced a series of new and up-to-date designs which have become some of the most attractive and eagerly sought examples of classic Rolls-Royce coachwork. Designed with input from sales manager J.S. Inskip, the elegant, flowing, classic lines of the Ascot sport phaeton, the jaunty York roadster and Regent convertible coupe with their side entrance rumble seat doors, and the luxurious closed Avon sedan established a precedent for quality, comfort and luxury which persists to this day in Rolls-Royce's reputation.


The Motorcar Offered

The exceptional Ascot Tourer presented here, S178FR, is one of approximately 28 built on the Phantom I chassis. As Phantom I production progressed, a number of improvements and refinements were incorporated, and by the time this example was built, the cars were equipped with 20-inch wheels and a lightweight aluminum cylinder head. Copies of the factory build sheets confirm that the car was sold new through the well-known New York based Rolls-Royce agency, J.S. Inskip, to R. Griffin of Jersey City, New Jersey in August, 1929, who is believed to have owned a very successful shoe polish business. The factory records appear to note that Griffin later traded S178FR for a Phantom II Henley Roadster, at which point the Ascot was sold to Bernard Heaton of Boston, Massachusetts.

Heaton kept the car until 1946 when it was offered on consignment with Elliot Hawley, and in February the following year it was sold to Peter Franz of Brooklyn, New York. The car's subsequent ownership history included a number of important pioneering collectors, who clearly understood how important a car this was. The first of these was Henry Wing, who the Rolls-Royce Owners Club notes restored the car between 1953 and 1956. The next was William O'Connor, a prominent Veteran Motor Car Club of America member, who used S178FR regularly on early RROC and BDC events. He penned a couple of articles in the club gazette charting enjoyable tours made in his Ascot. From O'Connor the car went to Paul Stern, another early connoisseur of collector cars, whose business was the original Manheim Auto Auction, based in his hometown of Manheim, Pennsylvania. While in Mr. Stern's ownership, S178FR was illustrated in the well-known book Rolls-Royce in America by John Webb de Campi. Stern sold the car to a fourth serious car collector, Wally Rank of Wisconsin and he in turn sold the car to Mark Smith of Skippack, Pennsylvania in the mid-1980s.

S178FR remained in dry storage throughout the next quarter century, until it was purchased by the vendor in 2010. At that time, the aging Ascot was in remarkably original and preserved condition, still retaining its original chassis, driveline, and Brewster coachwork. It was apparent that a combination of its lengthy period of rest and a history of ownership in the care of knowledgeable collectors left the car in a highly original state, apart from the sympathetic restoration performed during the 1950s. Many specific details remained in place, including the windshield mounted mirrors, arm rests for the rear seat passengers, and the particularly desirable and far more sporting 'Derby Speedster' style top.

After being purchased by the consignor, S178FR was treated to a thoughtful re-commissioning, bringing the highly original Rolls-Royce back to its former glory. Rolls-Royce specialist shop A.J. Glew of Gloucestershire was entrusted with the mechanical work, and Haslams Body, Ltd. of Bolton with the paint and bodywork. Approximately £50,000 was spent on re-commissioning, all carefully documented in the car's history file.

Painted Rouge Carmine over Amaranto, and fitted with beige leather trim, this Ascot shows beautifully today. Beauty aside, the true value of S178FR lies in its exceedingly genuine state, still complete with the original Brewster coachwork, engine and drivetrain. Furthermore, its impressive ownership history reads as a who's who of pioneering American collectors. Arguably one of the best Ascot Tourers extant, S178FR is now ready to find its next home.
Saleroom notices
Please note that this vehicle is titled as a 1928.