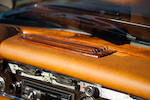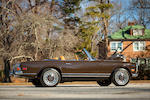 1970 Mercedes-Benz 280SL

Chassis no. 113044.12.015085
Engine no. 130983.12.009822

2,778cc SOHC Inline 6-Cylinder Engine
Bosch Mechanical Fuel Injection
170bhp at 5,700rpm
4-Speed Automatic Transmission
4-Wheel Independent Suspension
4-Wheel Disc Brakes

*Delivered new in Tobacco Brown over Cognac
*Factory optioned with both soft and hard tops
*Matching numbers example
*Great for Sunday drives or local shows
*Offered with copies of the factory build sheets, books and tools


The Mercedes-Benz W113

Launched at the Geneva Motor Show in March 1963, the 230SL – or W113 as the model range was internally labeled at Mercedes-Benz – was a completely new car through and through, designed to replace the outgoing 190SL. A truly modern car for its time and constructed to the high level of craftsmanship expected from Mercedes-Benz, the model quickly became a very popular two-seater among the elite thanks to its combination of luxury and high style. Mercedes-Benz would call the W113 "a Grand Tourer in the traditional sense" and "a unique combination of sports car performance and saloon car comfort." Many of the design and technical features were industry firsts, including the hard-top designed to withstand the car's weight for safety reasons, and its distinct lines, featuring a large greenhouse that eventually led to the model's popular nickname, the 'Pagoda'.

After the 230SL came the 250SL, which boosted engine capacity by about 200cc over its predecessor; later, both were replaced by the ultimate evolution of the W113, the 280SL, introduced in 1967. The enlarged 2.8-liter 6-cylinder SOHC engine now produced 170 horsepower, and disc brakes were now standard on all four corners. These last classic Pagoda models have become increasingly collectible, featuring exceptional build quality and reliability, easy access to spare parts, not to mention being highly usable thanks to their modern specifications.

The Motorcar Offered

According to copies of the Mercedes-Benz factory build-sheets, this excellent 280SL was finished new in the very period color of DB423 Tobacco Brown over a Cognac MB Tex interior. It came from the factory with both soft and hard tops, the hard top elegantly painted in a lighter beige color, beautifully accenting the darker body color. Further factory options included a Becker radio, the four-speed automatic transmission, power steering, front and rear bumper guards and an exterior rear-view mirror mounted on the driver's door. The new 280SL was completed at the Stuttgart-based Mercedes-Benz factory in January of 1970, and soon after was shipped to the US for delivery to its first owner.

Although the early history remains unknown, the car is believed to have been used, mostly as a summer car, in the Long Island, New York area for the past thirty plus years. By the early 2000s, the 280SL was owned by a Mr. Michael Kerr of Woodsburgh, New York, who had various maintenance and refurbishment work performed on the Mercedes-Benz by Columbia Classics Corp in Cedarhurst, New York and Exoticars USA, based in Frenchtown, New Jersey. Most recently, the car received a professional repaint, and received a full service.

Beautifully presented in the factory-delivered Tobacco Browncolor, with color-coded hubcaps and thin-line white wall tires, this car looks just right. The cognac-trimmed interior is in beautiful condition, and a correct, optional air conditioning system will ensure a comfortable climate with the hard top in place. This classic 280SL remains in wonderful condition throughout, ready to be enjoyed on Sunday drives or proudly displayed at a Concours d'Elegance. Offering timeless styling and excellent usability, the W113 280SL is quickly becoming thought of as one of Mercedes-Benz's most iconic and sought-after models of all time. Here is a great way to experience the legend.