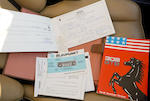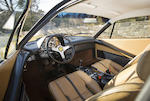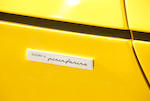 1976 Ferrari 308GTB
Coachwork by Scaglietti-Design by Pininfarina

Chassis no. 19579
Engine no. 01770

2,926cc DOHC V8 Engine
4 Weber Carburetors
240bhp at 6,600rpm
5-Speed Manual Transaxle
4-Wheel Independent Suspension
4-Wheel Disc Brakes

*Desirable early-production fiberglass 308GTB
*US-delivery model in sought-after Fly Yellow color
*Low-mileage, carefully preserved original example
*One of just 712 fiberglass 308s produced
*Offered with original books and tools


The Ferrari 308

Introduced as a replacement for the V6-powered 246 Dino, the 308GT4 received an all new, DOHC V8 engine, with a displacement of just under three liters. The new engine powered a model-range that still runs to this day, the current Ferrari 458 being the latest iteration. With the power-plant placed transversely above the rear axle, these cars have proven to be agile handlers, and their relative affordability makes them a great entree to the world of Ferrari ownership. Many V8 models have come and gone over the past four decades, but the 308 and 328 models of the 1970s and 1980s remain perhaps the most recognized of them all, surely owing some of their fame to the popular television series of the era, Magnum, P.I.

Unveiled at the 1975 Paris Auto Salon, the all-new 308GTB marked a major change of direction at Ferrari, and opened up a whole new market for the Italian manufacturer. Penned by Pininfarina, the compact, clean design was to stand the test of time, and was deservedly placed as number five on Sports Car International's Top Sports Cars of the 1970's list. A notable aspect of the early 308GTB was that, although still built by Scaglietti, the car's bodywork was entirely made of glass-reinforced plastic, allowing for a very light weight of just over 2,300 lbs. These early fiberglass cars also featured dry-sump lubrication derived from Ferrari's racing experience. Just 712 of these first series, lightweight 308GTB's were produced until June of 1977, when a more traditional steel body construction was adopted.


The Motorcar Offered

Dating from the second production year of the 308GTB, the largely original example offered here incorporates many of the unique features of these early cars, with their lightweight fiberglass bodywork and dry-sump engine lubrication system. Completed in June of 1976, this car, chassis number 19579 was built for the US market, incorporating the mandatory California emissions regulations and safety standards of the day. It was finished just as presented today, painted in the vibrant Fly Yellow Ferrari color, fitted with saddle interior and black accents and mounted on the classic Campagnolo five-spoke alloy wheels. The brand new Ferrari was imported by the legendary US Ferrari agency, Chinetti Garthwaite Imports, and was sold to Philadelphia, Pennsylvania based Ferrari dealer Algar Enterprises in January of 1977. Here 19579 found its first owner, renowned Ferrari enthusiast and dealer Ron Spangler of Prancing Horse Farm, Bel Air, Maryland. Mr. Spangler would keep the yellow 308 until 1982, when sold with around 8,000 miles to Lafayette, New Jersey resident Jim Cular. 19579 is believed to have remained in the New Jersey area throughout the 1980's and 1990's, later being owned by a Mr. David Fanelli in the early 2000s.

Acquired by the consignor in 2008 in very original and un-damaged condition, today this well-kept 308GTB shows fewer than 14,000 miles on its odometer, and upon close inspection is revealed to be a very well-preserved example throughout. The original saddle interior shows remarkably well, with the original delivery protection-plastic still in place on the door panels, while the vinyl dash, fascia and console area remain in excellent condition. The car's engine and storage compartments display original finishes and factory markings, as would be expected of a low-mileage preserved car like this, and the overall fit and finish of doors and lids are outstanding. The Fly Yellow paint shows a nice patina, with some characteristic hairline-cracks that these early fiberglass 308's are known for. Shod on correct Michelin XWX radial tires, 19579 looks correct in every way, and beautifully represents the beginning of a great era for Ferrari. Here is a chance to acquire a collectible, usable, iconic and rare Ferrari.
Footnotes
Saleroom notices
Please note this car does not have dry sump engine lubrication as noted in the catalog. As factory correct for this car, it has the wet sump lubrication to meet U.S. emission rules. Furthermore, it is one of approximately just 200 U.S. delivered, first series Fiberglass 308GTBs.