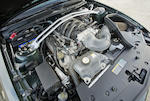 The first 2008 Bullitt Mustang built by Ford, owned by Chad McQueen
2008 Ford Mustang Bullitt Coupe
VIN. 1ZVHT82H485157442

281ci SOHC V-8 Engine
Fuel Injection
315bhp at 6,000rpm
5-Speed Manual Transmission
Front Independent Suspension, Solid Rear Axle
4-Wheel Disc Brakes

*The first 2008 Bullitt Mustang off the line
*Approximately 1200 miles from new
*Owned by the son of the star of Bullitt, Chad McQueen
*Latter-day iteration of the original 1968 Mustang GT from the movie
*Portion of proceeds to benefit the Boys Republic school


The Bullitt Ford Mustang

Every car nut knows the scene. In the steep streets of San Francisco, starting in the nabe of North Beach, a 1968 Dodge Charger R/T runs from a Mustang GT. 440 vs. 390. Bad guy vs. good guy. All of the action in the movie was real, and the protagonist – Steve McQueen – handled most of the driving of the Mustang himself. While it could be argued that certain movies have surpassed the thrill and excitement of this 1969 police drama, none are more memorable, no doubt due to the locale and the vehicles involved. Bullitt remains the movie to which all car chase scenes are compared.

In 2001, Ford created a modern-day tribute to the Bullitt Mustang, complete with mag wheels reminiscent of American Racing Torq Thrusts, Highland Green paint (plus two other colors available), and other unique touches. Five thousand five hundred eighty-two were built for the model year, then was succeeded by the Mach One among a slew of other special-edition Mustangs. Then, for 2008, the Bullitt Mustang returned.

Now on a new chassis and with styling that evolved from the previous-gen Mustang's "New Edge" theme, the 2008 Bullitt Mustang looked even more authentic than before. Bullitt-specific springs lowered ride height by 6 millimeters. Carbon metallic brake pads were standard. The look-alike Torq Thrusts were not exclusive to the movie Mustang anymore, but the Bullitt's were eighteen inches with a dark gray finish (with matching calipers) with a machined outer flange. Mufflers were baffled and included 3.5-inch stainless-steel exhaust tips. The 3.73 gears were a step up from the GT's, and horsepower was also increased as several Ford Racing parts bumped power to 315 horses. Like the original 1968 Bullitt Mustang, GT badges were missing, but so was the Ford Blue Oval. The 2008 Bullitt Mustang's interior consisted of black leather sport seats, machine-turned dashboard highlights, aluminum shifter ball, satin-finished scuff plates and pedal bezels, and available adjustable ambient lighting, among other things

Performance was a slight improvement from the basic Mustang GT with 5-flat 0-60 times and the sprint down the quarter taking 13.7 at 102.7 mph. These were times that ran rings around your typical stock 1968 390 Mustang GT (and even 440 Charger R/T, for that matter).

Says Chad McQueen, Steve McQueen's son, "Ford has really done a good job here. It looks just right, and sounds bitchin'. Well damped. Pretty torquey, too. This car really feels like a modern 1968."

The Motorcar Offered

And with that said, you can have that very same experience with this 2008 Bullitt Mustang offered here. Not only is it a low-mileage original with only about 1200 miles from new, but it's also Bullitt number 001. And then there's the owner – the son of Steve McQueen, who served as program consultant for Ford. With 5,773 built, there are enough Bullitt Mustangs to go around, but there can only be one no. 001.

A portion of the proceeds will benefit the Boys Republic school of Chino, CA, which has guided more than 28,000 at-risk teenage boys and girls toward productive, fulfilling lives since 1907 - including the King of Cool himself.