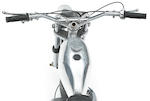 1968 Bantam Wassell 125
W.E Wassell Limited of Lichfield, near Birmingham, England, a manufacturer and distributor of motorcycle components for British, then Japanese bikes, was founded by Ted Wassell in 1946 and soon found a world market. There wasn't an off-road motorcycle made in the UK that didn't use Wassell parts. Aluminum gas tanks were a specialty. In 1972 it announced its own trials and scrambles frame suitable for the popular BSA Bantam 125/175 engine – they made 50 examples - and then its own 125cc Sachs powered machine engineered by ex-Dalesman's Jim Lee and Peter Edmonson. Maybe as many as 2,000 were made over several versions. The bikes "oozed strength and quality."

BSA, it is believed, made between a quarter and a half million Bantams – their version of a small two-stroke "personal transportation" utility motorcycle - from 1948 to 1971. By 1972 there would have been mass availability of a cheap motorcycle ready for conversion. And by then the Bantam 175cc unit construction motor had become a reasonable prospect.

This is a now rare example that is "as new", well built and as it came from the UK factory. It has been inside a private collection until now.
Footnotes
Saleroom notices
Please note that the engine number for this motorcycle is D14B5361.