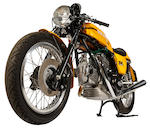 1973 Ducati Sport 750
If the GT was Ducati's all-around, thoroughly competent 750cc V-twin roadster, then the Sport was its ne'er-do-well boy-racer brother. Same basic bevel-drive, spring-valve motor, totally different attitude. The Sport got a narrow, racy bread-loaf gas tank and bum-stop seat patterned after Imola racers, both finished in a blaring yellow-orange. Clip-on handlebars and rearset footpegs tilted the rider forward, all the better to get "under the paint" for top-speed blasts, around-town comfort not a concern. Engine side covers and fork leg lowers were blacked out.

Power was bumped by a useful 5 hp, thanks to larger 32mm carbs and higher-compression pistons. Café-racing was just catching on in the U.S. for the first time and the bike gained an instant following, among them the editors at The Wonderful World of Cafe Racers, obviously enraptured with the Sport's considerable cornering prowess. "The motorcycle's handling is so stable that ineptitude becomes mere mediocrity, mediocrity in turn graduates to competence and competence blossoms into sheer corner-swooping finesse," they wrote.

The Silverman collection's 1973 Sport is a finely restored example showing very few miles since its total rebuild.
Saleroom notices
Please note that the frame and engine numbers for this motorcycle are DM750S753809 and 753324DM750 respectively and its title is in transit. Furthermore, please note that license plate frame was damaged in transit and will be replaced at no cost to the buyer.