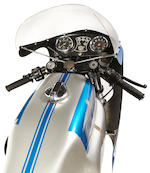 1977 Ducati 900SS Imola
Frame no. 087189
Engine no. 087189DM860
After years of building their brand with small-displacement, high-performance single-cylinder motorcycles, Ducati entered the emerging superbike wars in 1971. Their opening salvo was a Taglioni-designed, 90-degree V-twin of 750cc capacity, in a package designated 750 GT. The field was dominated by the declining Brits with their Norton twins and Triumph triples, and the up-and-coming Japanese, whose Honda four-cylinder CB750 had raised the bar considerably with its electric-starter and low price. The new Ducati was a performer, pulling seamlessly through the rpm range, but so-so fit and finish and the visual oddity of the twin's laydown front cylinder led initially to mixed reviews.

A seminal event in Ducati history would overcome the critics' carping. A visionary Italian promoter, Francesco Costa, promoted a race at Imola that was meant to be a European version of the famed Daytona 200-miler. Ducati entered hastily prepared prototype Super Sport racers based on the 750 GT and took on all their large-displacement rivals. The untried mounts posted an incredible 1-2 finish with Paul Smart the winner, followed home by Bruno Spaggiari. From that moment, Ducati became the bike of choice for hard-core sporting riders with a taste for exotic mechanicals. It also spawned a generation of SS versions of Taglioni's bevel-drive V-twins.

The first of these was the iconic Green Frame roundcase 750SS. In 1975, the 900SS, fitted with the 864cc "square-case" engine was introduced. It remained in production for the remainder of the decade, offered in a variety of specifications and trim levels. The Silverman collection's 900SS is a rare Imola model, like the first 750SS patterned after the race-winning bikes, with special gas tank and paint. The bike wears the number-one option for hard-charging riders, a high-rise exhaust system to give added cornering clearance. The stock low-level pipes are included in the sale. This 900SS Imola offers an opportunity to own a top-of-the-line Ducati from the era when the firm was establishing its reputation as one of the world's elite superbike manufacturers.
Saleroom notices
Please note that the title for this motorcycle is in transit.