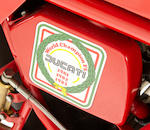 1981 Ducati TT2
As a racing machine, the Taglioni-designed TT2 was light and athletic, and had a wide powerband. It was a nearly perfect balance of power and weight. The ultra-light chromoly trellis frame weighed only 16 lbs. It was heavily triangulated for strength and very compact. Nimbleness came from a wheelbase was so short that riders of a taller stature found the TT2 somewhat of a challenge to ride effectively – not that anybody complained too much after their first ride on the landmark machine. That the bike was fabulous-looking in its yellow-and-red livery was a bonus.

Originally street-based, the TT2's 81 x 85mm Pantah engine was made over as a pure factory racer. While the compression ratio was a moderate 10:1, larger valves operated by Ducati's desmodromic camshafts provided improved engine breathing. Additional weight-saving features included exposed camshafts, a magnesium primary drive cover and a hydraulically operated clutch. Most of the gears were also drilled for lightness.

More so than any other American motorcycle magazine, Cycle was clued in to Ducatis. In the TT2, the editors correctly foretold a bright sportbike future for Ducati: "More than anything else, the TT2 is fun to ride fast," they wrote. "It's a crime you can't ride this motorcycle on the street – and it would be a crime if you did. There's one hell of a supersport motorcycle here, lurking about a millimeter below the surface of that red paint. What this motorcycle needs is a 750 engine and street equipment."

The TT2 played a significant role in Ducati's racing heritage and authentic examples are rarely available for sale. To have two on offer at the same time is indeed a rare happenstance. In addition to being the centerpiece of any serious Ducati collection, TT2s are eligible for vintage motorcycle events worldwide.
Footnotes