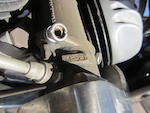 1940 Harley-Davidson WLD Daytona Race Replica
Engine no. 40WLD3606
Unique among the world's racetracks, the original Daytona Beach course was a 3.2-mile circuit, half-sand, half-pavement, its straight-aways connected by rutted horseshoe-shaped corners. The fastest riders completed the required 200 miles in about three hours. It was an endurance race, then, that demanded a different kind of motorcycle, part road racer, part dirt-tracker.

Harley 45 expert David Sarafan restored this WLD as a Daytona racer, starting with a lightweight factory
"two bolt" frame and the shorter civilian springer fork. Factory-style gas tanks hold a total of 5 gallons, giving the kind of range needed to keep pit stops to a minimum at Daytona. Likewise the oversize alloy oil tank holds 5 quarts. Lowered handlebars helped the rider duck out of the wind on the long bumpy back straight, a deserted stretch of Highway A1A, as did the leather chest pad atop the gas tanks.

The engine, with matching lower case numbers, was treated to a WR-style rebuild, including lighter flywheels and connecting rods, big-fin alloy cylinders, heavy-duty valve springs and guides, and "chisel-point" camshafts with roller tappets and cam bushings. It breathes through a Linkert M53 carb with "bombsight" venturi and special stainless-steel air cleaner. A Wico racing magneto is fitted, as is a WR road racing exhaust.

A highlight is the super-rare competition transmission built by longtime Harley racer/tuner the late Al Knapp, who fitted ball bearings, a four-speed gearset, beefed-up clutch and special supports. This unique WLD is an excellent runner, and with minimal race prep could go vintage road racing – or add lights and turn it into a potent little bob-job.
Footnotes