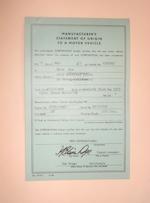 One-off custom dirtbike built for U.S. motocross originator Edison Dye
1973 Husqvarna 250cc "Lady Blue"
Frame no. 03709
Engine no. 2032-1093
In the 1960s, when dirtbike racing in America meant either scrambles or flat-track, Edison Dye discovered motocross while on a European vacation. An instant convert and born salesman, he began importing Husqvarnas when most American riders had never heard of the Swedish two-strokes, let alone knew how to pronounce the name. It was Dye who first put Malcolm Smith on a Husky, a brand he is now synonymous with. In a brilliant marketing plan to spread the word about motocross (and, no doubt, sell a few Husqvarnas) Dye invited European MX riders to tour the U.S., an endeavor that became the Inter-Am race series, credited with igniting American's interest in the sport. In recognition of his efforts, Dye was inducted into the AMA Hall of Fame in 1999, called "the father of motocross in the United States."

This unique Husqvarna 250 is at once another of Dye's grand marketing schemes and a present to his wife Rita. In late 1972 he commissioned the factory to build a model that might be more attractive to women riders, in his eyes an under-served segment of the marketplace. This was a standard 250 motocrosser but with its frame, swingarm, fork legs and triple-clamps painted a bright white. Instead of the usual Husky red, the fuel tank was painted a vibrant blue, finished off with special "Lady Blue" script lettering. Most of the metalwork – fenders, rims, hubs, countershaft-sprocket cover, chainguard – was polished to a high luster.

Dye's plans for a female-friendly dirtbike never went any further. There was only one Lady Blue ever built, presented to Rita Dye in May of 1973. The bike was discovered languishing in a Southern California garage 39 years later by Don Ince, Husqvarna expert and proprietor of Vintage Viking, a shop specializing in the brand. He undertook a complete restoration, finished in 2013. The engine was bench-tested after its overhaul, prior to installation in the frame, but the bike has been stored dry and shows 0 miles since restoration. Included in the sale is the original Manufacturer's Statement of Origin transferring ownership to Rita Dye, signed by Edison Dye.
Footnotes