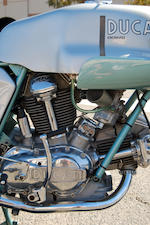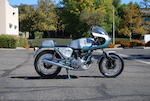 1973 Ducati 750SS
Frame no. DM750SS-075080
Engine no. 075116
It was Paul Smart's famous victory at the Imola 200 in April of 1972 that really put Ducati's new V-twin on the map. It was a particularly sweet occasion for hitherto un-fancied Ducati, as the Bologna factory defeated not only the race-proven Triumph Tridents of Percy Tait, John Cooper and Ray Pickrell, but also the works 750 MV Agusta of Giacomo Agostini. With such an outstanding pedigree, the 750SS was a natural choice for racing's new Superbike category, and later on proved highly competitive in AMA Battle of the Twins racing.

Smart's bike was based on the 750 GT roadster introduced that same year. The racer's cycle parts remained close to stock – even the centerstand lugs were retained! – merely being uprated with triple Lockheed disc brakes, while the engine gained desmodromic cylinder heads, high-compression pistons and stronger con-rods. When the definitive production version, the 750SS, appeared in 1973 it differed little in overall conception from the Imola '72 bikes. The big Imola fuel tank and humped racing seat were both featured on the road machine, which wore a cockpit faring rather than the racer's fuller streamlining.

The 750SS received rave reviews in the motorcycling press, being hailed by Cycle magazine as "a bike that stands at the farthest reaches of the sporting world – the definitive factory-built café-racer." Today the so-called Green Frame 750SS is regarded as a true landmark model and is one of the most sought-after of all Ducatis.

This low-mileage original 750SS was cosmetically restored in the 1990 by noted marque specialist Bobby Weindorf when he was chief technician at Pro-Italia, a Los Angeles-area Ducati dealer. Besides new correct-color paint on the frame and bodywork, at that time it also fitted with stainless-steel wheel spokes and a Grimeca master brake cylinder, similar in appearance to the stock Scarab unit but functionally superior. With those two minor deviations from stock, the immaculate bike spent the next few years on static display, until it was acquired by Weindorf himself from the original client. In his ownership, the 750SS has remained a display piece, never started, and still shows less than 3000 miles on the odometer. Its engine internals are untouched from stock, the telltale factory wire seal still in place. As an ideal example of the model, cosmetically restored and cared for by a true Ducati enthusiast/expert, this has to be as desirable as a 750SS gets.
Saleroom notices
Please note that the correct frame and engine numbers for this motorcycle are DM750SS075080 and 075116DM7501 respectively; it is titled as a 1974 and its title is in transit. Please note, that this motorcycle is subject to California Highway Patrol VIN inspection--a simple procedural matter on which the condition or history of the motorcycle has no bearing. Following the auction, this lot will be transported to San Francisco, at no cost to the buyer, and will be available for collection from Sa