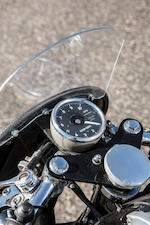 1954 BMW Rennsport RS54
Chassis no. 549012
Engine no. 549012
While BMW had captured the world's attention before WW2 by repeatedly capturing the World Land Speed Record with its supercharged streamliners, winning the European Championship in 1938 and the Isle of Man TT in '39, all German factories (BMW, NSU, DKW, etc) were barred from international competition immediately post-war. Yet each carried on developing their 'old' supercharged designs for domestic championship honors, while retooling for renewed civilian production. When Germany was again admitted to worldwide FIM-sanctioned events, each factory 'set to' with renewed vigor; with the burgeoning economy of their 'economic miracle' and exploding sales of two-wheelers, the BMW factory invested in upgrading their prewar RS255, built for supercharging, into modern, normally-aspirated GP racers.

Their new designs retained much of the old 'Kompressor' engine design on paper, with twin gear-driven camshafts compactly hidden in the cylinder heads, but the engine was nearly all-new, while the greatest change came to the now cutting-edge chassis: a full loop, all-welded lightweight frame with proper swingarm suspension and hydraulic damped shocks, plus the latest ultra-rigid Earles front fork, brought the BMW back in the game.

What wasn't expected was the announcement in 1953 that BMW would offer well-heeled professionals a genuine production racer, closely modeled on the Works' machines. The RS54 could be found in black and white (and blue!) in the factory catalog, although perhaps only 24 were ultimately built by BMW. What the factory offered was a 130kg (286lb) DOHC dedicated racing machine producing a nominal 45hp, which on paper compared well with its competition, the Norton 'Manx' produced perhaps 50hp, but was 10kg (22lbs) heavier. While the BMW had theoretical advantages as a production racer over rival Norton, with a lighter weight and a lower center of gravity, the BMW never handled quite as well, but then again, it never leaked oil over the rear tire!

To stop the machine, an aluminum 200mm twin-leading shoe full-width brake graced the Earles forks, while a single leading shoe drum fixed the rear swingarm. A hydraulic drum brake, as fitted to the later Works racers and sidecar machines, sometimes found their way to the RS54 as well. Other developments included a shorter-stroke engine of 68x68mm (the Works engines used 70x64mm at the end, and these dimensions migrated to many RS54s in later competitive life), a five-speed gearbox, higher compression pistons, larger Dell'Orto SS1 carbs, etc.

This BMW RS54, engine #549012, corresponds with an early-type, long-stroke '253-1' Rennsport. The machine is currently fitted with a 5 speed gearbox, a Bosch magneto (stamped H241-72), Smiths 10k rpm tachometer, aluminum fuel tank with Enots 'Monza' filler, crankshaft-driven 90degree tachometer drive, and early type frame with a single strengthening cross-tube below the swing-arm, Dell'Orto SS1 carburetors, and correct twin-leading shoe RS54 front brake.
Footnotes
Saleroom notices
Please note that the buyer of lot 330 will not be required to pay import duty in addition to the final bid price and buyers' premium.